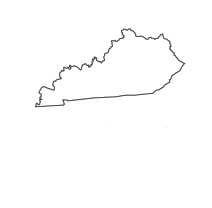 In 2010, over 3,200 paralegals were working in Kentucky according to a survey by the Bureau of Labor Statistics. In fact, west central Kentucky ranked second in the country for having the highest employment of paralegals in a nonmetropolitan area, and third in the country for highest concentration of paralegal jobs in a nonmetropolitan area.
Kentucky holds the distinction of being the first state to define paralegals and their use within the legal field. In 1979, the Kentucky Supreme Court issued Rule 3.700 which requires the direct supervision of paralegals by lawyers, expects paralegals to maintain client confidentiality, forbids the unauthorized practice of law by a paralegal and mandates that paralegals disclose to clients that they are not lawyers.
In 2010, the Kentucky Paralegal Association (KPA) implemented a voluntary certification process for paralegals in order to fully implement the standards set forth in Rule 3.700. The goal of the KPA's certification process is to raise the level of professional competence and responsibility of paralegals by setting minimum expectations for training, on-the-job experience and paralegal education. The hope is that long-term, the certification process will improve the quality of service that paralegals provide thereby increasing their utilization and availability to the public.
<!- mfunc feat_school ->
Featured Programs:
Sponsored School(s)
<!- /mfunc feat_school ->
<!- mfunc search_btn -> <!- /mfunc search_btn ->
In order to qualify take the Certified Kentucky Paralegal (CPK) exam, a paralegal must meet one of the following qualifications:
Kentucky Job Statistics
2011 mean income for paralegals in Kentucky: $39,970
Number of paralegals employed in Kentucky: 3,240
2011, 46% of filings in Circuit Court statewide were civil suits
Completion of an American Bar Association (ABA) approved paralegal studies program, such as a certificate program or an A.A. or B.A. in paralegal studies
Completion of substantive coursework in paralegal studies from a non-ABA approved program that meets standards similar to those of the ABA
Completion of a bachelor's degree in any field from an accredited institution, combine with one year of work experience as a paralegal
Performance of at least five years of verifiable work experience as a paralegal under the supervision of an attorney
Paralegal Education
With a statewide focus on certification and increasing the utilization of paralegals in the legal field, many paralegals in Kentucky find it helpful to obtain formal education in order to get started in the field. Educational programs can help a paralegal qualify to take the Certified Kentucky Paralegal exam and also can distinguish the entry-level paralegal from other job candidates.
Paralegal studies programs are offered at several different levels: certificates, associate degrees, bachelor's degrees and master's degrees. Paralegal studies programs may be recognized by the American Bar Association (ABA) or not, and may or may not be offered by accredited institutions. For the purposes of becoming a Certified Kentucky Paralegal, aspiring paralegals should investigate these distinctions and choose a program that will help them meet the exam's eligibility requirements.
Is There Paralegal Certification in Kentucky?
Certificate programs are educational program that offer students a certificate of completion. Such certificates may help make a paralegal eligible to take a certification exam, but they do not make the paralegal "certified." After completing an educational certificate program, a paralegal is considered "certificated".
In order to become certified, a paralegal must successfully pass a state or national exam in their field. In Kentucky, the CKP exam is a statewide exam which is administered by the Kentucky Paralegal Association. Paralegals who pass the exam may register as Certified Kentucky Paralegals, a professional distinction which may increase their professional growth opportunities.
National certification is also available through administered by one of the three national paralegal associations. Currently there are four national exams from which to select:
Requirements for the national exams differ between the three national paralegal organizations and also differ from the requirement to become a Certified Kentucky Paralegal. A comparison of the national requirements can be found here.
Professional Paralegal Associations
Kentucky has several professional organizations from which to choose. The Kentucky Paralegal Association works at the statewide level on matters such as certification than affect all paralegals in Kentucky. The KPA cooperates with the Kentucky State Bar, the American Bar Association, government agencies, law firms and other organizations to further the professional goals of paralegals and ensure smooth working relationships throughout the state's legal community. The KPA offers its members educational programs, continuing legal education, networking opportunities and current information pertaining to the practice of their profession.
<!- mfunc search_btn -> <!- /mfunc search_btn ->
Regionally, there are five paralegals associations that build professional relationships between local members of the legal community and offer regional insights to their membership. These associations: the Association of Paralegals (LAP), the Greater Appalachian Paralegal Association (GAPA), the Greater Lexington Paralegal Association (GLPA), the Northern Kentucky Association of Paralegals (NKAP), and the Western Kentucky Paralegals (WKP) also work with the KPA on statewide issues.
Important Contacts for Paralegals