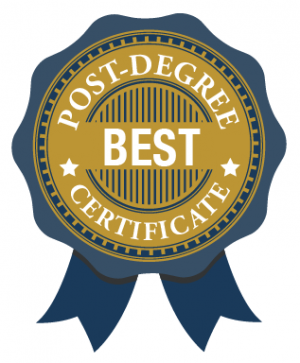 It's often said that a two or four-year degree in almost any field in combination with a post-degree certificate in paralegal studies is one of the most marketable credential combinations in the business.
A post-associate's or post-baccalaureate certificate is the clear option for anyone looking to change careers entirely to become a full-fledged paralegal, and for existing paralegals and other legal support staff who would benefit from a focused course of study that covers everything from legal research and writing, to legal office technology. And with the ability to custom tailor a program by selecting electives in specific functions or areas of law, a quality post-degree certificate can also give current paralegals exactly the education they need to hone their expertise in a particular area relevant to the law practice or legal department they work for.
A post-degree certificate is also the obvious choice for professionals working in virtually any field that intersects with law who are looking to reorient their career and become the go-to legal expert in the office. Few other post-degree training options complement an undergraduate degree in business or healthcare administration, finance, economics, HR, and other fields like a post-degree certificate in paralegal studies. This makes it the go-to option for many mid-career professionals in banking, real estate, HR, office management, and other fields looking for some additional training to expand the breadth of their expertise and make a real impact on the value they're able to bring to the organizations they work for.
If one of these descriptions fits you, and you're ready to get serious about researching your post-associate or post-bac options, then you've come to the right place.
<!- mfunc search_box_nav_empty -><!- /mfunc search_box_nav_empty ->
<!- mfunc feat_school ->
How We Selected the Top Post-Degree Paralegal Studies Certificate Programs
No one is more discriminating about their education options than professionals who have made the decision to go back to school. You're going all in to be proactive about changing the trajectory of your career, so you're not interested in anything short of the best options available for making that happen. You want a program with the best reputation among employers in the area and the best track record for quality outcomes… the best curriculum and opportunities for getting some valuable experience… the best career support services and student community with affiliations that help foster networking and camaraderie…. and the best value so you can feel good knowing that the expense is well worth it.
Sponsored Listings
There is a lot that goes into making a decision about which program in your area hits these points, and we know anyone considering their options can use all the help they can get. We took the time to review more than 200 programs from accredited schools throughout the U.S., giving consideration to everything we feel makes for an outstanding program:
Well connected to the local legal and business community and able to facilitate valuable internship opportunities
Experienced faculty of attorneys and paralegals able to draw from years of industry experience
Dedication to meeting the highest curriculum standards with a program that has been approved by the ABA or through institutional membership with AAfPE
Strong track record for producing highly employable graduates, with high industry employment numbers among those who have recently completed the program
Exceptional career guidance services that go above and beyond, including providing continued support for alumni
It is our belief that no single criterion makes or breaks a program. Instead, we feel the best way to isolate the top programs in different parts of the country is to make a total appraisal of what the program offers, and then see how it all stacks up to other similar programs in the area.
There are no shortcuts when it comes to doing a deep dive assessment of all these points for this many programs. It takes an expert understanding of what the industry demands, and lots of time dedicated to the task. We're glad to be able to save you the trouble by putting in the hours to review each post-degree certificate program offered at accredited schools throughout the U.S. so you don't have to.

Post-Associate and Post-Bac Paralegal Certificate Programs by State
So here you have it – our pick for the top post-associate and post-bac paralegal certificate programs available in the U.S.
---
This list features programs that our editorial staff hand selected to present as top recommendations. We believe the many aspects of a program that come together to create an exceptional student experience can't be reduced to numbers alone, so no formula was used to attempt to score or rank these programs. Instead, they represent our top picks based on a thoughtful review of the things we know mean the most to students. Each one of these programs offers something unique, and all come equally highly recommended. We stand behind the principal of editorial integrity and make these recommendations independently and without compensation.
---
ALASKA
ARIZONA
CALIFORNIA
COLORADO
CONNECTICUT
DELAWARE
DISTRICT OF COLUMBIA
FLORIDA
GEORGIA
HAWAII
ILLINOIS
INDIANA
IOWA
KANSAS
KENTUCKY
LOUISIANA
MAINE
MARYLAND
MASSACHUSETTS
MICHIGAN
MINNESOTA
MISSISSIPPI
MISSOURI
NEBRASKA
NEVADA
NEW HAMPSHIRE
NEW JERSEY
NEW MEXICO
NEW YORK
NORTH CAROLINA
NORTH DAKOTA
OHIO
OKLAHOMA
OREGON
PENNSYLVANIA
RHODE ISLAND
SOUTH CAROLINA
TENNESSEE
There are no listings at this time.
TEXAS
UTAH
VIRGINIA
WASHINGTON
WISCONSIN
WYOMING