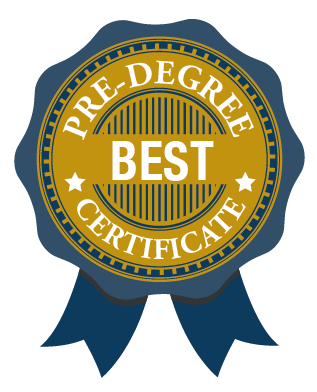 The entry-level, pre-degree paralegal certificate definitely has its place as an option for career preparation in the paralegal field. It provides a streamlined and neatly tailored course of study for anybody without a college degree. With a narrow focus on just the fundamental paralegal skills you need and none of the general education courses you don't, it has become a favorite option among recent high school grads, career changers looking to become paralegals, and even mid-career professionals who got into the profession at a time when education requirements weren't as stringent and now want to brush up on contemporary topics.
But no other paralegal education option leaves prospective students with as many questions. While associate's and bachelor's degree programs typically include a pretty uniform course sequence and consistent number of credits, there is no official – or even commonly agreed upon – standard for what constitutes a basic certificate program in paralegal studies. This has largely left schools to develop these programs as they see fit based on the demands of the local job market.
Many are non-credit career diploma programs, while some are structured as an undergraduate certificate in paralegal studies that give students the option to apply credits toward a degree later on… Some can be completed in a matter of weeks, while others take a year or more… Some are available through community colleges and state universities while others are offered through proprietary schools that specialize in paralegal training… Some are offered completely online and involve no instructor and peer interaction, while others offer internship options, are highly interactive, and give students access to all the student services available to other on-campus undergrads.
In the absence of universally agreed upon standards, an elite class of schools has accepted the challenge that comes when you have to make your own rules, rising to the occasion by offering something truly useful to students gearing up for a career in the legal field.
<!- mfunc search_box_nav_empty -><!- /mfunc search_box_nav_empty ->
<!- mfunc feat_school ->
How We Selected the Best Entry-Level and Undergrad Paralegal Certificate Programs in the Nation
We went through a tireless review process looking at the more than 250 regionally and nationally accredited community colleges, career and technical training institutes, state schools, private universities and proprietary schools offering basic, pre-degree certificates in paralegal studies and related fields. We worked hard to isolate the unique characteristics that show a program was created with the student experience in mind.
Sponsored Listings
We considered things like opportunities for experiential learning through an internship or practicum… Student services, including a robust career counseling and job placement program that connects students with local firms and other employers… The program's reputation for turning out graduates with the skills employers look for… How well it is connected to the local legal community to create networking and professional opportunities for students… Whether the program is well-aligned with the demands of the local job market based on what we found in current job postings… Whether the program lends itself to further education… How well the program accommodates working students with online and hybrid options or classes scheduled during evenings and weekends…
Of course, not every one of these factors is equally important to all students in all job markets, so we kept a close eye on how the program stacks up to other options available in the area, and how well it measured up to the hiring requirements among local employers.
In the end, we asked ourselves one question…
Knowing what we know now about what it takes to succeed in a law firm or corporate legal department, would we feel good about recommending this program to someone we were mentoring in this particular part of the country?

Our Pick for the Best Entry-Level and Undergraduate Certificate Programs in the US
If we could identify enough strong points in a program to confidently answer 'YES' to this question, we added it to our list to give it the recognition we feel it deserves. Here you have it, in no particular order, our favorite pre-degree certificate programs available in the U.S.
---
This list features programs that our editorial staff hand selected to present as top recommendations. We believe the many aspects of a program that come together to create an exceptional student experience can't be reduced to numbers alone, so no formula was used to attempt to score or rank these programs. Instead, they represent our top picks based on a thoughtful review of the things we know mean the most to students. Each one of these programs offers something unique, and all come equally highly recommended. We stand behind the principal of editorial integrity and make these recommendations independently and without compensation.
---
ALABAMA
ARIZONA
ARKANSAS
CALIFORNIA
COLORADO
CONNECTICUT
DELAWARE
FLORIDA
GEORGIA
ILLINOIS
KANSAS
MAINE
MASSACHUSETTS
MISSISSIPPI
MONTANA
NEVADA
NEW HAMPSHIRE
NEW MEXICO
NEW YORK
OHIO
OKLAHOMA
OREGON
TEXAS
VIRGINIA
WISCONSIN