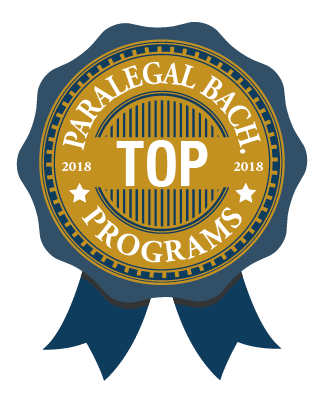 Maybe you're looking at a bachelor's degree in legal studies as a stepping stone to an advanced law degree with the end goal being to cement your future as a partner at a law firm… Maybe you're taking the hint from industry standards bearers and the legal community at large that a bachelor's provides the best preparation for the demands being placed on paralegals today– in fact, in the bigger metro areas where competition is fierce for jobs with the world's most powerful firms, you're wise to look at a 4-year degree as the de facto requirement if you want your resume getting more than a passing glance.
Whatever career goal brought you here, you're likely wrestling with the same questions as everybody else combing the internet in search of a bachelor's program that has it all: everything you need to go on to earn national certification and to ready yourself for the career ahead… a school with strong ties to the local legal community and just as strong a reputation with employers in the area… and some bang for your buck so you can feel good knowing that whatever loans you'll need to take out, it's more than worth it for the education you're signing up for.
How We Selected the Best Paralegal Bachelor's Programs
How do you really assess the quality of one bachelor's program against another in a field without universally recognized education standards or required exams? Painstakingly.
We set out with an ambitious goal to review every bachelor's degree program out there for paralegals, other legal professionals, and pre-law students. Sure – we could've short-cut the process by leaning solely on things like AAfPE membership or ABA-approval, but we felt prospective students needed a look at the entire educational landscape before committing their hard earned dollars and the next four years of their lives. So we went big and looked at every school in the U.S. that holds accreditation from an accrediting body recognized by the Department of Education. That's some 130 schools nationwide.
<!- mfunc search_box_body ->
<!- /mfunc search_box_body ->
<!- mfunc feat_school ->
We knew we wanted this lengthy assessment process to result in something more than just a run down of all the big names in higher education. We wanted to provide prospective students all over the country with something really useful to their search for the best option in their area. We believe the only way to really pull this off is to look at what's going on in the legal field in different parts of the country.
Naturally, there's a common set of paralegal specialty courses you're going to find in any bachelor's program – things like legal research and writing, and courses in areas like family law, torts, and litigation are pretty much a given. But beyond that, colleges and universities have historically developed curriculum to align with the demands and expectations of the local legal community – a small town law office in rural America doesn't always have the same demands as an international firm headquartered in Manhattan.
The solution then is to look at each program as it compares to others in the immediate area to see how each one stacks up to their competitors. Even within a state, we recognize that the legal environment isn't always the same from place to place, so we looked to identify the program that we felt shined so bright among the other local options that it could easily be held up as an example of how to go above and beyond. We then crowned what we felt was the one clear winner in each state.
Sponsored Listings
State-by-State Analysis of the Best Bachelor's Programs for Paralegals
So here's the results of our in-depth comparative analysis for 2021 – our pick for the best bachelor's programs in legal studies/paralegal studies found in each state.
---
This list features programs that our editorial staff hand selected to present as top recommendations. We believe the many aspects of a program that come together to create an exceptional student experience can't be reduced to numbers alone, so no formula was used to attempt to score or rank these programs. Instead, they represent our top picks based on a thoughtful review of the things we know mean the most to students. Each one of these programs offers something unique, and all come equally highly recommended. We stand behind the principal of editorial integrity and make these recommendations independently and without compensation.
---
ALABAMA
ALASKA
ARIZONA
ARKANSAS
CALIFORNIA
COLORADO
CONNECTICUT
DELAWARE
FLORIDA
GEORGIA
IDAHO
ILLINOIS
INDIANA
IOWA
KANSAS
KENTUCKY
LOUISIANA
MAINE
MARYLAND
MASSACHUSETTS
MICHIGAN
MINNESOTA
MISSISSIPPI
MISSOURI
MONTANA
NEBRASKA
NEW JERSEY
NEW YORK
NORTH CAROLINA
OHIO
OKLAHOMA
PENNSYLVANIA
RHODE ISLAND
SOUTH DAKOTA
TENNESSEE
TEXAS
VERMONT
VIRGINIA
WASHINGTON
WEST VIRGINIA
WISCONSIN