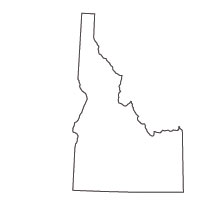 In Idaho, nearly one quarter of all legal professionals are paralegals, according to the Bureau of Labor Statistics' 2010 report. Most paralegals work in Idaho's urban areas, including Boise and Coeur D'Alene.
Idaho Rule 5.3 includes paralegals in the category of legal "paraprofessionals." As such, they must work under the supervision of a lawyer and lawyers must accept responsibility for their professional conduct of their paraprofessional employees. Members of the Idaho Bar Association have adopted voluntary guidelines that define the lawyer-paralegal relationship and clarify the supervisory responsibilities of the lawyer.
As Idaho does not require paralegals to be certified or registered, aspiring paralegals may choose between entering the job market directly through employment that provides on-the-job training or by pursuing paralegal education. According to the Idaho Association of Paralegals, job candidates are often given preference if they have a degree or have attended an American Bar Association (ABA) approved program.
<!- mfunc feat_school ->
Featured Programs:
Sponsored School(s)
<!- /mfunc feat_school ->
Is There Paralegal Certification in Idaho?
Several levels of education are available to paralegals: certificate programs, associate degrees, bachelor's degrees and master's degrees. Each of these educational pathways can help aspiring paralegals not only prepare for their professional career but also help them meet eligibility for national certification. It is important to thoroughly research programs as they may or may not be offered by accredited school and may or may not be recognized by the ABA.
<!- mfunc search_btn -> <!- /mfunc search_btn ->
Completion of an educational certificate program makes one a certificated paralegal.  Certificate programs can be useful for those with no prior education who wish to immerse themselves solely in paralegal studies without general education classes. Certificate programs are also offered for aspiring paralegals who hold a degree in another field and want to add an additional focus to their studies. Instead of completing a second bachelor's degree, they can earn a certificate in paralegal studies.
Idaho Job Statistics
2011 mean income for paralegals in Idaho: $40,870
80% of Idaho Association of Paralegals members hold a bachelor degree or higher
40% of Idaho Association of Paralegals members work in private law firms
7% of Idaho Association of Paralegals members hold national certification
Certificated paralegals are not the same as certified paralegals, who have passed a national certification exam.
National Certification
Currently the three professional paralegal organizations offer four national exams from which paralegals may select:
The national certification exams are offered to paralegals with education, work experience or a combination of both who want to distinguish themselves within their field. Requirements for the national exams differ between the three national paralegal organizations. A comparison can be found here.
Idaho Association of Paralegals
The Idaho Association of Paralegals was established in 1980 with the goal of offering education, professional development, networking and growth opportunities for paralegals in Idaho. Members of the IAP volunteer as mentors to aspiring paralegals and donate their services to the community through pro bono work. Raising the standard of professionalism is important to the IAP, and they work to accomplish this through educational luncheons, twice yearly seminars and ongoing offering of continuing legal education.
<!- mfunc search_btn -> <!- /mfunc search_btn ->
This association offers four levels of membership:
Active Membership – To qualify for Active Membership you must be currently employed in Idaho and have at least six points according to the following, with no more than five points derived from education or work experience alone (a combination is necessary):

Graduate degree – five points
Bachelor's degree – four points
Graduation from an ABA-approved paralegal program – three points
Associate degree in paralegal science – two points
Graduation from a non-ABA-approved paralegal program – two points
National Association of Legal Assistants' (NALA's) Advanced Certified Paralegal (ACP) credential, formerly referred to as CLAS – two points
Associate degree – two points
Two years of college with no degree – one point
Work experience as a paralegal – one point per year
Certified Paralegal (CP) or Certified Legal Assistant (CLA) credential from NALA – one point
National Federation of Paralegal Associations (NFPA)'s Registered Paralegal (RP) credential – one point
Active-Status-Pending Membership – You can qualify for this if you meet all of the Active Membership requirements except for any of the following:

You lack one full year of work experience
You are relocating from another state and have not yet secured employment in Idaho
You're a graduate of an ABA-approved paralegal program but have not secured work or acquired enough work experience for Active Membership

Student Membership – Open to students enrolled in a paralegal program in good standing
Supporting Membership – Open to any member in good standing of a bar association and paralegal educators
Law Firms
According to the Idaho Association of Paralegals' membership statistics, 40% of IAP paralegals work for private law firms, 25% work in corporate law, 23% work in government positions and the remainder work in other businesses. Most law firm positions are concentrated in the larger cities like Boise. Idaho law firms that employ paralegals include:
Jones & Swartz PLLC
Parsons Behle & Latimer
Dykas, Shaver & Nipper
Hawley Troxell
May, Rammell &Thompson, Chartered
O'Connor Law, PLLC
Gulstrom, Henson & Petrie, PC
Perkins Coie LLP
Important Contacts for Paralegals