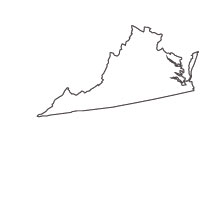 In 2011, over 8,000 paralegals were working in Virginia according to the Bureau of Labor Statistics. Many other paralegals who live in Virginia work in the District of Columbia.
Virginia does not regulate its paralegals, which allows paralegals to enter the profession through either on-the-job training or education with no legal standards to meet. However, in 1995 the Virginia Alliance of Paralegal Associations created guidelines to help employers determine if a person is qualified to work as a paralegal. These guidelines are:
Graduation from an American Bar Association (ABA) approved program or a program of equivalent rigor
Earning national certification from a program recognized by VAPA
Completion of a bachelor's degree in any field with either at least 24 semester hours of paralegal studies courses OR one year of work experience as a paralegal
Completion of an associate degree in that includes a minimum of 60 semester credit hours with at least 24 of those in paralegal coursework
At least five years of work experience as a paralegal under the direct supervision of an attorney
As in other states, Virginia's Rules of Professional Conduct 5.3 require that attorneys provide direct supervision of any nonlawyer assistants including paralegals. Attorneys must instruct paralegals in matters of confidentiality and ethics, and assume responsibility for their professional conduct.
<!- mfunc feat_school ->
Featured Programs:
Sponsored School(s)
<!- /mfunc feat_school ->
<!- mfunc search_btn -> <!- /mfunc search_btn ->
Is There Paralegal Certification in Virginia?
The Virginia Alliance of Paralegal Association's (VAPA) educational standards reflect the growth in prominence of the paralegal profession within the legal community. As increasing numbers of law firms hire paralegals, the need for standards of qualifications has grown. Along with it, educational opportunities for paralegals have increased.
Virginia Job Statistics
2011 mean income for paralegals in Virginia: $49,750
Number of paralegals employed in Virginia: 8,070
July 2012, Supreme Court determines certain costs in cases filed by court-appointed counsel will not be reimbursed
Aspiring paralegals can earn associate, bachelor's or master's degrees in paralegal studies. Earning a degree usually takes two to five years to complete.  Students who earn a degree are introduced to a broad spectrum of knowledge while also focusing on coursework in the specialty area of paralegal studies.
Certificate programs usually do not offer many general education courses and so may be completed more quickly than degree programs. Certificate programs offer focused coursework on paralegal studies to prepare graduates for a new career. While some certificate programs only require applicants to have a high school education, others are designed to supplement their students' previous bachelor's degree in any field and to help them enter the workforce as paralegals. Graduates of certificate programs are called certificated paralegals.
VAPA's educational standards require that degree and certificate programs meet ABA approval guidelines or the equivalent and that educational institutions be accredited.  ABA approval and accreditation are also required by some employers and for eligibility to take national certification exams. All educational programs should be closely examined by prospective students.
National Certification
VAPA recognizes national certification as a means of demonstrating one's qualifications as a paralegal. The national certification exams are offered by three professional paralegal associations to paralegals who meet eligibility requirements of education, training and experience. Paralegals that pass the national certification exam become certified paralegals. Currently the three professional organizations offer four national exams from which to select:
Requirements for the national exams differ between the three national paralegal organizations. A comparison can be found here.
Paralegal Associations
Virginia has a wealth of paralegal associations from which to choose, including organizations affiliated with each of the three major national paralegal associations:
NALA, NFPA and NALS. Many of these local paralegal associations work together as part of VAPA, the Virginia Alliance of Paralegal Associations.
<!- mfunc search_btn -> <!- /mfunc search_btn ->
The Virginia Association of Legal Secretaries (VALS), a NALS affiliate, is open to all legal professionals including paralegals. Continuing education is a major focus of VALS, which offers an annual conference, support for those preparing for national certification, workshops and professional courses. VALS members may also benefit from networking opportunities, scholarships and social events. VALS has chapters throughout the commonwealth.
The Paralegal Association of Northern Virginia (PANV) is Virginia's largest NFPA affiliate, offering membership to paralegals, student paralegals and corporate members who wish to support the profession. PANV promotes the increased utilization of paralegals by networking with other legal organizations and educating the general public. PANV works to elevate the professionalism of its members by offering continuing legal education (CLE), supporting members that are seeking national certification, and offering opportunities for members to specialize their legal knowledge.
The Richmond Paralegal Association (RPA) is an active group of NALA-affiliated paralegals. The RPA offers many educational opportunities to its members, including seminars, brown bag luncheons, conferences, workshops and meetings. Those working towards national certification are supported through study groups. The RPA also has a mentoring program, job bank and offers pro bono service opportunities.
Law Firms
Virginia is home to many large law firms that are also large employers of paralegals. Such law firms can be good entry points into a career as a paralegal. Virginia's large law firms include:
McGuireWoods LLP
Hunton & Williams LLP
Williams Mullen
Framme Law Firm PC
Frith Anderson & Peake, PC
Gardner, Gardner, Barrow & Sharpe
Geddy, Harris, Franck & Hickman, LLP
Gentry Locke Rakes & Moore, LLP
Glasser & Glasser
Glenn Feldmann Darby & Goodlatte
Goodman, Allen & Filetti
Greenberg Traurig LLP
Greenblum & Bernstein, P.L.C.
Hancock, Daniel, Johnson & Nagle
Harman Claytor Corrigan & Wellman
Harrison & Johnston
Hirschler Fleischer A Professional Corporation
Hogan Lovells
Holland & Knight
Hoover Penrod PLC
Hunzeker Lyon & Leggett
Johnson, Ayers & Matthews
Jones, Blechman, Woltz & Kelly
Kalbaugh Pfund & Messersmith
Kaufman & Canoles
Lawson & Silek
Important Contacts for Paralegals