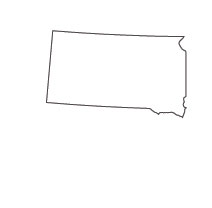 Five hundred paralegals are at work in South Dakota, according to the 2011 employment survey conducted by the Bureau of Labor Statistics. Paralegals represent nearly one third of all legal professional in the state.
In South Dakota, Supreme Court Rule 5.3 directs that paralegals must work under the direct supervision of an attorney who also accepts responsibility for their professional conduct. In addition, South Dakota's Supreme Court Rule 97-25 sets minimum qualifications for those wishing to work as a legal assistant or paralegal. Those qualifications are:
National certification through the National Association of Legal Assistants, Inc. as a Certified Legal Assistant (CLA)/li>
Completion of an American Bar Association (ABA) approved program in paralegal studies
Completion of coursework in paralegal studies at an accredited but not ABA- approved educational institution that is the equivalent of sixty semester hours of classroom study
Completion of a course of study for paralegals, other than those described above, and a minimum of six months of in-house paralegal training
A bachelor's degree in any subject, and a minimum of six months of in-house paralegal training
At least three years of law-related experience under the supervision of a licensed attorney, including a minimum of six months of in-house paralegal training
A high school diploma and two years of in-house training as a paralegal
<!- mfunc feat_school ->
Featured Programs:
Sponsored School(s)
<!- /mfunc feat_school ->
<!- mfunc search_btn -> <!- /mfunc search_btn ->
Is There Paralegal Certification in South Dakota?
Although the South Dakota Supreme Court's definition allows paralegals to enter the profession through in-house training, increasing numbers of aspiring paralegals are choosing education as an entry-point into a career. Earning a certificate or degree can help job candidates stand out from the competition. Education can also qualify a paralegal for taking a national certification exam. Employers and the national professional associations offering certification exams may desire that candidates have completed coursework at an ABA approved or accredited institution.
South Dakota Job Statistics
2011 mean income for paralegals in South Dakota: $38,980
July 2007, SD Trial Lawyers Association announces new "legal support staff" membership category
2011, number of civil and criminal cases realized by Supreme Court: 223,000
Aspiring paralegals may earn certificates or degrees in paralegal studies. Currently, there are associate, bachelor's and master's degree programs available in paralegal studies. Degree programs offer a mix of specialized coursework in paralegal studies and general education classes.
Certificate programs are educational programs that do not grant degrees but offer shorter, focused programs in paralegal studies. Upon completion of such a program, graduates receive certificates of completion and are then considered certificated paralegals. Some certificate programs are open to anyone with a high school degree or equivalent. Others require that applicants have previously earned a bachelor's degree in any subject. These programs are called post-baccalaureate certificate programs.
National Certification
Although the terms are similar, certificated paralegals are not the same as certified paralegals. Certified paralegals have earned a credential from a national paralegal association by successfully completing a national certification exam. Requirements for the national exams differ between the three national paralegal organizations and can be found here.
Currently there are four exams from which to choose. In South Dakota, most paralegals who choose to become nationally certified take NALA's CLA/CP exam as it is specifically recognized in Rule 97-25.
Paralegal Associations
The South Dakota Paralegal Association (SDPA) represents paralegals throughout the state. Members may attend monthly meetings throughout the state in one of five regions: Aberdeen, Black Hills, Pierre, Sioux Falls or Watertown. As an affiliate of NALA, the SDPA works towards upholding NLA's goals within the state of South Dakota, including cooperation and networking with state bar associations and others within the legal field, maintaining high standards of ethics and professionalism and to encourage educational goals among its members. The SDPA encourages its members to earn their CLA/CP and offer scholarships to members to help with this goal.
<!- mfunc search_btn -> <!- /mfunc search_btn ->
Law Firms
Veteran and entry-level paralegals often find large law firms to top employers of paralegals. Rural states like South Dakota tend to have concentrations of jobs in their larger cities. In South Dakota, Sioux City and Rapid City are home to large law firms that include:
Davenport, Evans, Hurwitz & Smith, LLP
Bangs McCullen Law Firm
Vogel Law Firm
Gunderson, Palmer, Nelson & Ashmore, LLP
Pesall Law Firm
Siegel, Barnett & Schutz, L.L.P.
Important Contacts for Paralegals