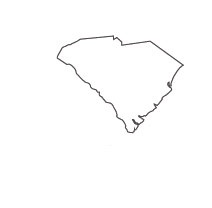 Nearly 4,000 paralegals are employed in South Carolina according to the Bureau of Labor Statistics' 2011 survey. Columbia boasts the seventh highest concentration of paralegal jobs in the nation, while rural Low Country South Carolina has the third highest employment concentration of the nation's non-metropolitan areas.
As in other states, South Carolina's paralegals must work under the direct supervision of an attorney, as established in Supreme Court Rule 5.3 which outlines the Professional Responsibilities of Lawyers to Nonlawyer Assistants. Lawyers are also required to instruct paralegals in ethics and confidentiality, and are ultimately responsible for their employees' professional conduct.
South Carolina does not require a standard amount of training or education before aspiring paralegals can enter the profession. Those interested in becoming paralegals can seek employment that provides on-the-job training or earn a certificate or degree in paralegal studies prior to beginning a career as a paralegal.
<!- mfunc feat_school ->
Featured Programs:
Sponsored School(s)
<!- /mfunc feat_school ->
<!- mfunc search_btn -> <!- /mfunc search_btn ->
Is There Paralegal Certification in South Carolina?
As the paralegal profession becomes more visible and more highly utilized within the legal field, increasing numbers of aspiring paralegals are choosing education in order to gain the skills they need to become paralegals. In addition to providing a solid legal foundation, degrees or certificates in paralegal studies can help job candidates be more competitive in the job market. Additionally, paralegals with education may find it easier to meet the eligibility requirements for national certification should they be interested in pursuing it. As employers and national certification exams may desire a degree or certificate from an American Bar Association (ABA) approved program or a school that is accredited, program choices should be thoroughly researched.
South Carolina Job Statistics
2011 mean income for paralegals in South Carolina: $42,240
Governor Sanford proclaims October 26 as Paralegal Day
Number of paralegals employed in South Carolina: 3,960
Both degrees and certificates are available to those who seek education in paralegal studies. Currently, students may earn associate, bachelor's and master's degrees in paralegal studies. Degrees blend focused coursework in legal/paralegal studies with general education requirements such as writing, history and other fundamentals.
Those who have previously earned a degree in any field or those who prefer to take only the focused coursework on paralegal studies may find that a certificate program provides what they need. Certificate programs can vary widely in rigor and amount of coursework required. Post-baccalaureate certificates assist those who have already completed a bachelor's degree in supplementing their education with specialized paralegal coursework. Upon completion, graduates receive a certificate of completion and become certificated paralegals.
Earning national certification to become certified paralegals is a way for paralegals to demonstrate proficiency and commitment to continued education within the paralegal profession.  In order to sit for a national certification exam, paralegals must meet requirements for education, work experience or a combination of the two.  Requirements for the national exams differ between the three national paralegal organizations and can be found here.
<!- mfunc search_btn -> <!- /mfunc search_btn ->
Currently there are four exams from which to choose:
Paralegal Associations
The South Carolina Upstate Paralegal Association (SCUPA), based in Greenville, promotes continuing education among its members, high levels of ethics and professionalism, and strong working relationships with others in the legal community. SCUPA offers its members monthly meetings that are social and educational in nature, an annual seminar and pro bono work opportunities. An affiliate of the National Association of Legal Assistants (NALA), SCUPA offers four levels of membership:
Active Member – Open to anyone who meets one of the following:

Certified Paralegal (CP)/Certified Legal Assistant (CLA) from NALA
Graduate of an ABA-approved paralegal program
Graduate of an institutionally accredited paralegal program that
In Columbia and vicinity, the Palmetto Paralegal Association (PPA) works to increase the visibility of paralegals within the legal community and to the general public. To this end, PPA members network with other individuals and organizations in the legal community, speak at educational institutions to attract qualified students to the paralegal profession, and volunteer for pro bono work. The PPA also offers continuing education, scholarships and a job bank to its members. PPA offers four membership options:
Voting – Open to employed paralegals who have graduated from a PPA-approved education program
Associate – Open to those who meet the criteria for Voting membership, but who are not currently employed as paralegals
Student – Open to those enrolled in a paralegal program that is approved by the ABA and/or the PPA
Sustaining – Open to businesses and individuals who support or interact with the legal profession
The Charleston Association of Legal Assistants (CALA), based in Charleston, supports the educational and professional development of its members by offering continuing education opportunities and assisting members in preparing for NALA's CLA exam. Additionally, CALA offers scholarships, a job bank, pro bono opportunities and social events. An affiliate of the National Association of Legal Assistants (NALA), CALA offers four levels of membership:
Full Membership – Open to currently employed paralegals who have at least one year of paralegal experience and have completed a paralegal training program that is ABA or institutionally approved
Associate Membership – Open to those who do not meet the experience or educational requirements to become a Full member
Student Membership – Open to students enrolled in an ABA or institutionally approved paralegal program
Corporate Membership – Open to entities that support the paralegal concept
South Carolina Bar – This association sponsors the voluntary credential South Carolina Certified Paralegal. To qualify for this you must have one of the following national qualifications:
Certified Paralegal (CP)/Certified Legal Assistant (CLA) from the National Association of Legal Assistants (NALA)
Registered Paralegal (RP) through National Federation of Paralegal Associations (NFPA)
Legal Staff Professionals of South Carolina (LSPSC) – This association is the state-level affiliate of NALS. It encourages NALS paralegal certifications, and promotes these levels of NALS membership:
Individual – Open to those engaged in work of a legal nature
Associate – Open to those engaged in work of a legal nature such as educators, judges, and attorneys
Students – Open to students taking at least nine semester credits from a legal-related program offered by an accredited school
Retired – Open to those who have been a NALS-affiliated member for at least five years prior to retirement
Life – Open to qualified individual members
International – Open to those engaged in work of a legal nature who reside outside the US
The local chapters that are part of the LSPSC and NALS are:
Legal Staff Professionals of Greenville (LSPG)
Hilton Head Legal Staff Professionals (HHLSP)
Legal Staff Professionals of Orangeburg
Spartanburg County Legal Staff Professionals
Legal Staff Professionals of the Midlands
Legal Staff Professionals of the Lowcountry
Law Firms
South Carolina is home to many large law firms, which are often also large employers of paralegals. Large law firms in South Carolina include:
Altman & Coker, LLC
Buist Moore Smythe Mcgee Pa
Clawson & Staubes
Collins and Lacy, P.C.
Ellis, Lawhorne & Sims
Gallivan, White & Boyd
Haynsworth Sinkler Boyd
Ogletree Deakins
Smith Moore Leatherwood LLP
Nelson Mullins Riley & Scarborough LLP
Nexsen Pruet
McAngus Goudelock & Courie PLLC
McNair Law Firm PA
Moore & Van Allen PLLC
Motley & Rice
Pierce, Herns Sloan & McLeod
Richardson Plowden Carpenter
Richardson, Patrick Westbrook & Bri
Rogers Townsend & Thomas
Sowell Gray Stepp & Laffitte
Turner, Padget, Graham & Laney
Womble Carlyle Sandridge Rice
Wyche, Burgess, Freeman & Parham, P.A.
Young ,Clement, Rivers & Tisdale LLP
Important Contacts for Paralegals