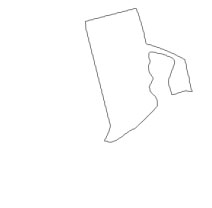 The 2011 Bureau of Labor Statistics employment survey found that 770 paralegals work in Rhode Island, though many others are employed in neighboring states. Rhode Island's paralegals work across all sectors, including private law firms, corporations and government agencies.
In Rhode Island, there are no regulations that establish minimum qualifications for paralegals with regards to training and education. Aspiring paralegals may directly enter the field by finding employment that provides training. Alternately, they may complete coursework in paralegal studies prior to beginning their careers.
Rhode Island's Supreme Court defines paralegals in a manner similar to other states. Supreme Court Provisional Order No.18, along with Rule 5.3, requires that paralegals work under the direct supervision of a lawyer. Paralegals may provide direct services to clients, judges and lawyers. However, they must not practice law, but rather should do work assigned to them by lawyers.  Supervisory lawyers are responsible for their paralegals' professional conduct and must provide guidance on standards of ethics and confidentiality.
<!- mfunc feat_school ->
Featured Programs:
Sponsored School(s)
<!- /mfunc feat_school ->
<!- mfunc search_btn -> <!- /mfunc search_btn ->
Is There Paralegal Certification in Rhode Island?
Many educational paths are available to aspiring paralegals. The Rhode Island Paralegal Association (RIPA) encourages paralegals to pursue higher education such as associate and bachelor's degrees in paralegal studies.  Education can also help entry-level paralegals stand out in a competitive job market. National paralegal certification may be available to paralegals with educational credentials as well. Both future employers and the paralegal associations that offer national certification may desire that paralegal studies programs be approved by the American Bar Association (ABA), offered by accredited educational institutions or both.
Rhode Island Job Statistics
2011 mean income for paralegals in Rhode Island: $48,840
2010, Appellate Mediation Program increased resolution rate to over 50%
2010, the total number of filings and dispositions: 196,995
2010, Supreme Court disposes of 55% of cases within 300 days of docketing
Certificate programs in paralegal studies are available to aspiring paralegals in addition to associate, bachelor's and master's degrees. Many paralegal certificate programs require that applicants have previously earned a bachelor's degree in any field. These certificate programs offer specialized coursework in paralegal studies without many general education requirements. Other certificate programs do not have the prerequisite of a degree. Graduates of certificate programs are called certificated paralegals.
National Certification
Certified paralegals are those paralegals that have successfully completed the national certification process. National certification is available to paralegals that meet entry requirements in education and work experience.  Once eligible, those paralegals may sit for a national certification exam. If they pass, they become certified paralegals. Currently the three national professional organizations offer four exams from which to select:
Requirements for the national exams differ between the three national paralegal organizations. A comparison can be found here.
Paralegal Associations
Since 1979, the Rhode Island Paralegal Association (RIPA) has worked to raise the professional and ethical standards of paralegals, increase the utilization of paralegals within the legal community, and build working relationships with other legal organizations throughout Rhode Island. As an affiliate of the NFPA, RIPA represents the statewide and national interests of Rhode Island paralegals.
<!- mfunc search_btn -> <!- /mfunc search_btn ->
Membership in RIPA allows paralegals access to continuing legal education (CLE), social events, a job bank, scholarships and pro bono service opportunities. Membership is open to students, entry-level paralegals and veteran paralegals.
RIPA offers four levels of membership:
Student Membership – Open to those enrolled in a certificate, associate's degree, or bachelor's degree program in paralegal studies, who do not qualify for any other membership level
Voting Membership – Open to those who meet one of the following:

Bachelor's degree in paralegal studies plus one year of paralegal work experience
Associate's degree in paralegal studies plus two years of paralegal work experience
Certificate in paralegal studies plus two year of paralegal work experience
Five years of paralegal work experience
Associate Membership – Open to those who meet one of the following:

Bachelor's degree in paralegal studies and less than one year of paralegal work experience
Associate's degree in paralegal studies and less than two years of paralegal work experience
Certificate in paralegal studies and less than two years of paralegal work experience
Less than five years of paralegal work experience
Sustaining Membership – Open to corporations, law firms, and colleges/universities that support the paralegal concept and RIPA
Law Firms
Large law firms often employ paralegals and good be good entry-points into the paralegal profession. Rhode Island's largest law firms include:
Blish & Cavanagh LLP
Brown Rudnick LLP
Burns & Levinson LLP
Cameron & Mittleman
Coia & Lepore Ltd
Decof & Decof
Duffy, Sweeney & Scott Ltd
Edwards Angell Palmer & Dodge
Higgins, Cavanagh & Cooney LLP
Hinckley, Allen & Snyder LLP
Kirshenbaum & Kirshenbaum
Little Medeiros Kinder Bulman
Morrison Mahoney LLP
Moses Alfonso Jackvony, Ltd.
Nixon Peabody
Pannone Lopes & Devereaux
Roberts, Carroll, Feldstein & Pierce
Shechtman Halperin Savage
Tillinghast Licht LLP
Winograd, Shine & Zacks
Important Contacts for Paralegals