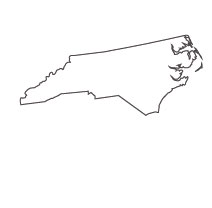 North Carolina supports nearly 10,000 paralegals according to the Bureau of Labor Statistics' 2011 survey, ranking fifth for highest employment level nationally. While the Winston-Salem region has the fourth highest concentration of jobs in the country, the metropolitan-Raleigh area and North Carolina's non-metropolitan areas also rank very high in concentration of jobs.
With so many paralegals at work in North Carolina, the North Carolina State Bar (NCSB) created a Plan for Paralegal Certification, which was adopted by the North Carolina Supreme Court in 2004. Under this plan, paralegals may voluntarily choose to become certified and use one of the following titles: North Carolina Certified Paralegal, North Carolina State Bar Certified Paralegal, Paralegal Certified by the North Carolina State Bar Board of Paralegal Certification, or NCCP. The NCCP certification process involves meeting educational standards and passing an examination that is offered by the NCSB.
Educational requirements for North Carolina certification are: an associate, bachelor's, or master's degree in paralegal studies; a juris doctorate degree from a law school; or an associate or bachelor's degree in another filed complemented by a post-baccalaureate certificate in paralegal studies.
<!- mfunc feat_school ->
Featured Programs:
Sponsored School(s)
<!- /mfunc feat_school ->
<!- mfunc search_btn -> <!- /mfunc search_btn ->
Degree and certificate conferring educational institutions must also meet qualifications, and be either American Bar Association (ABA) approved, American Association for Paralegal Education (AAfPE) proved, or offer a program that would meet AMA/AAfPE standards and be accredited by the United States Department of Education. There is no path to certification for paralegals without formal education.
North Carolina Statistics
2011 mean income for paralegals in North Carolina: $41,450
2004, NC Supreme Court adopted Plan for Certification of Paralegals approved by the NC State Bar
2011 NC State Bar Ethics Opinion 14 requires disclosure to clients when supportive work is outsourced to another country
As in other states, paralegal-attorney relationship in North Carolina is governed by Rule 5.3 which concerns the Professional Responsibilities of Lawyers to Nonlawyer Assistants. Lawyers must directly supervise paralegals and assume responsibility for paralegals' conduct when executing work given to them by the lawyer. Additionally, lawyers may not ask paralegals to perform tasks which would fall under the category of "practicing law without a license."
Is There Paralegal Certification in North Carolina?
While it is legal to work in North Carolina without meeting the NCCP requirements, many paralegals choose education as their entry point into a career so that they can be competitive in their job search and have the option of certifying. As the NCCP certification plan requires that educational programs meet ABA or AAfPE educational standards and be accredited, program choices should be thoroughly researched.
The terms "certificated paralegal" and "certified paralegals" are sometimes interchanged although they signify different things. Certificates are issued by some educational programs in lieu of degrees. Certificated paralegals have received a certificate of completion from an educational certificate program. Some programs admit students without a previous degree and others, called post-baccalaureate certificate programs, require a degree in any field as a prerequisite. In North Carolina, it is legal to work with a non-baccalaureate certificate but only a post-baccalaureate certificate qualifies a paralegal to become a NCCP.
National certification, through which paralegals become certified paralegals, is another pathway to demonstrate proficiency in the paralegal profession, though it is not recognized for certification purposes within North Carolina.  To be eligible for national certification, paralegals must meet requirements for education, work experience or a combination of the two.  Paralegals who meet those requirements may then take a national certification exam. Requirements for the national exams differ between the three national paralegal organizations and can be found here.
Currently there are four exams from which to choose:
Paralegal Associations
In North Carolina, professional paralegal associations work at both the statewide and regional level. The North Carolina Paralegal Association (NCPA), founded in 1980, has worked for over 30 years to develop a strong paralegal network across the state and to advocate for the interests of paralegals in discussions around regulation, educational standards and the like. The NCPA championed the North Carolina Certified Paralegal plan as part of its commitment to raising the professional status of paralegals and demonstrating a commitment to ongoing education. The NCPA continues to respond to the needs and interests of its members by introducing new programs such as mentoring, partnering with Legal Aid of North Carolina to offer pro bono services, and offering continuing legal education (CLE) on hot topics in the paralegal profession.
<!- mfunc search_btn -> <!- /mfunc search_btn ->
Regionally, many professional associations provide networking opportunities, develop working relationships with local bar associations, and offer ongoing education and professional development. Local professional associations include: the Asheville Area Paralegal Association (AAPA), the Catawba Valley Paralegal Association, Inc. (CVPA), the Cumberland County Paralegal Association (CCPA), the Guilford Paralegal Association (GPA), the Metrolina Paralegal Association (MPA), the Raleigh-Wake Paralegal Association (RWPA) and the Research Triangle Paralegal Association (RTPA).
Law Firms
Large law firms are major employers of paralegals in North Carolina. They can be important entry-points for new paralegals. North Carolina's top law firms include:
Alston & Bird LLP
Brooks, Pierce, McLendon, Humphrey & L
Cadwalader, Wickersham & Taft LLP
Cranfill, Summer & Hartzog LLP
Hedrick Gardner Kincheloe & Garofalo
Hunton & Williams LLP
K & L Gates
Kilpatrick Townsend & Stockton
Mayer Brown
McGuirewoods
Merritt, Flebotte, Wilson, Webb & C
Moore & Van Allen PLLC
Nelson Mullins Riley & Scarborough LLP
Nexsen Pruet
Parker, Poe, Adams & Bernstein
Patterson Dilthey Clay Bryson
Poyner & Spruill
Robinson Bradshaw & Hinson
Smith Moore
Smith, Anderson, Blount, Dorsett, Mitchell & Jernigan LLP
The Van Winkle Law Firm
Ward and Smith, P.A
Williams Mullen
Womble Carlyle Sandridge & Rice
Wyrick Robbins Yates & Ponton
Important Contacts for Paralegals