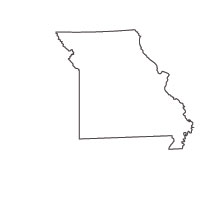 More than 4,500 people are at work as paralegals in Missouri, according to the 2011 employment survey performed by the Bureau of Labor Statistics. Urban areas, like the metro-Kansas City and St. Louis regions, account for the highest percentage of employment among paralegals.
In Missouri, paralegals are considered legal "paraprofessionals" according to Rule 5.3. This means that they must work under the supervision of a lawyer who agrees to educate them about matters of confidentially and ethics. Attorneys must also accept responsibility for the professional conduct of any paralegals that they employ.
Although it was suggested in 2003, Missouri does not currently regulate its paralegals in terms of training or educational requirements. However, the Missouri Bar Association's "Practicing with Paralegals" position paper supports educational requirements for paralegals and encourages its members to hire paralegals with certificates or degrees in paralegal studies.
<!- mfunc feat_school ->
Featured Programs:
Sponsored School(s)
<!- /mfunc feat_school ->
<!- mfunc search_btn -> <!- /mfunc search_btn ->
Paralegal Education
The Missouri Bar's position on paralegal education aligns with the standards of paralegal education promoted by both the American Bar Association (ABA) and the American Association for Paralegal Education (AAfPE). Those standards call for paralegal education that includes at least 60 semester hours of coursework in legal core competencies like research, drafting legal documents and analyzing legal materials. They also require that educational institutions be either accredited or ABA/AAfPE approved. Such education is available in several models: certificates, associate degrees, baccalaureate degrees and master's degrees.
Is There Paralegal Certification in Missouri?
The certificate that qualifies a paralegal to work is different from national certification, though the two are often confused. Certificate programs are educational programs that issue a certificate of completion to their graduates, who are then called certificated paralegals. Some certificate programs can be finished quite quickly, since unlike degrees they do not have many general education requirements. Some certificate programs are available to those with no previous higher education. Others require a baccalaureate degree in any field as a prerequisite.
Missouri Job Statistics
2011 mean income for paralegals in Missouri: $47,380
Number of paralegals employed in Missouri: 4,510
As of December of 2011, 19,000+ cases had been filed using the Missouri eFiling System
Certified paralegals are paralegals that have passed one of the national exams offered by the professional paralegal associations. National certification is voluntary and is often obtained so that paralegals may demonstrate their competence in their field. Currently, there are four exams offered:
In order to take one of these exams, paralegals must meet eligibility requirements including education and work experience. These requirements differ between the three national paralegal organizations. A comparison can be found here.
Paralegal Associations
Missouri offers a statewide paralegal association as well as two regional paralegals associations. All three organizations endeavor to promote the development of the paralegal profession through high ethical and professional standards, networking within the legal field, and sponsoring educational opportunities for their members.
<!- mfunc search_btn -> <!- /mfunc search_btn ->
The Missouri Paralegal Association (MPA) is affiliated with the NFPA and works to address issues affecting paralegals at the state and federal level. This includes representing the interests of paralegals in conversations about regulation and other matters, providing paralegals with opportunities to network and exchange information, and developing continuing legal education (CLE) for paralegals.
MPA offers four levels of membership:
Voting – Open to those employed as paralegals who meet one of the following:

Bachelor's degree in paralegal studies
Bachelor's degree in any field plus a paralegal certificate from an approved school
Associate's degree in paralegal studies plus one year of paralegal experience
Associate's degree in any field, a paralegal certificate from an approved school, and one year of paralegal experience
Three years of consecutive paralegal experience
Associate – Open to those who meet the requirements for Active membership except for being employed as a paralegal
Affiliate – Open to any person who supports the MPA
Sustaining – Open to any entity that supports the MPA, with different marketing options available
NALS of Missouri – An affiliate of NALS this state association and its local chapters encourage NALS certification and offer these different levels of membership:
Individual – Open to those engaged in work of a legal nature
Associate – Open to those engaged in work of a legal nature such as educators, judges, and attorneys
Students – Open to students taking at least nine semester credits from a legal-related program offered by an accredited school
Retired – Open to those who have been a NALS-affiliated member for at least five years prior to retirement
Life – Open to qualified individual members
International – Open to those engaged in work of a legal nature who reside outside the US
The local chapters of NALS of Missouri are:
Kansas City Legal Secretary Association (KCLSA)
Springfield Area Legal Support Professionals (SALSP)
NALS of Greater Saint Louis
Saint Louis Paralegal Association (STLPA) – An affiliate of the National Association for Legal Assistants (NALA), the STLPA promotes NALA certifications and offers these levels of membership:
Voting – Open to employed paralegals who have completed a formal paralegal program or who have been employed as paralegals for at least two years
Associate – Open to any of the following:

Those currently employed as paralegals
Those who have been employed as a paralegal in the past
Those who have completed a formal paralegal training program
Student – Open to those currently enrolled in a formal paralegal training program
Sustaining – Open to business partners that select to sponsor the STLPA
Kansas City Paralegal Association (KCPA) – This association offers four levels of membership:
Affiliate – Open to anyone who is not employed as a paralegal or who cannot meet the requirements Voting membership
Student – Open to those enrolled in a formal paralegal studies program who are not employed full-time as a paralegal
Sustaining – Open to law firms, companies, and institutions that want to support the KCPA
Voting – Open to employed paralegals who meet one of the following:

Associate's degree in paralegal studies, or a paralegal certificate
Bachelor's degree in any subject
One year of paralegal work experience
Law Firms
Large law firms can be great entry points for new paralegals. In Missouri, the largest law firms are found in the St. Louis and Kansas City areas. Such firms include:
Shook, Hardy and Bacon
Polsinelli Shughart
Stinson Morrison Hecker
Lathrop and Gage
Armstrong Teasdale
Husch Blackwell
Greensfelder, Hemker and Gale
Thompson Coburn
Bryan Cave
Important Contacts for Paralegals