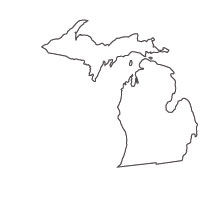 Home to major automobile companies like Ford Motor, General Motors, and GMAC and other Fortune 500 companies like Dow Chemical, Whirlpool, and Kellogg, Michigan has long been the source of professional opportunities for paralegals in corporate law. Michigan is also home to big law firm names like Detroit's Honigman, Dickinson Wright, and Bodman, which offer paralegal job opportunities in everything from criminal law to bankruptcy law to immigration law.
But before you can join the ranks of the dynamic paralegal profession, you'll need to learn how to become a paralegal in Michigan, which includes ensuring you have the education and credentials that today's top lawyers demand.
Michigan's Rule 5.3 defines paralegals as legal "paraprofessionals" who may be employed under the supervision of an attorney. Supervising attorneys must instruct their paraprofessionals in standards of ethics and confidentiality, and must be willing to accept responsibility for their employees' professional conduct.
Michigan does not regulate its paralegals by requiring that they meet certain standards of training or education. As such, aspiring paralegals may choose education or on-the-job training as entry points into their chosen career.
<!- mfunc feat_school ->
Featured Programs:
Sponsored School(s)
<!- /mfunc feat_school ->
Is There Paralegal Certification in Michigan?
Aspiring paralegals in Michigan may acquire education through certificate programs or degree-conferring programs. Education can help prepare the entry-level paralegals for employment, help paralegals qualify for the voluntary national certification exams, and help distinguish entry-level paralegals in a competitive job market.
Sponsored Listings
Certificate programs offer students focused coursework in paralegal studies without many general education classes. Graduates from certificate programs are called certificated paralegals. Certificate programs may take different forms. Some programs target aspiring paralegals who already have earned a degree in another subject and who desire specialized coursework in paralegal studies. Other certificate programs do not require applicants to have previously earned a degree. Graduates from certificate programs earn certificates of completion.
Michigan Job Statistics
Number of paralegals employed: 6,870
2020 average annual salary: $54,350
Number of active MI lawyers: 35,453 as of 2020
Degrees, such as associate, bachelor's and master's degrees in paralegal studies, are also available to aspiring paralegals. Degrees combine general education classes with specialized work in paralegal studies.
The American Bar Association (ABA) offers a recommended list of programs. ABA approval and accreditation status of the educational institution can be important to employers as well as the national paralegal associations which offer certification exams.
National Certification
In Michigan, it is not required that paralegals become nationally certified in order to work legally. However, paralegals may voluntarily sit for the national certification exams in order to become certified paralegals. Such certification demonstrates paralegals' mastery of their field.
The national certification exams are open to paralegals that possess required amounts of education, work experience or a combination of the two.
Currently the three professional organizations offer four national exams from which to select:
Paralegal Associations
Both the State Bar of Michigan and the Grand Rapids Bar Association have active paralegal sections that offer continuing legal education, job listings, and regular gatherings.
The State Bar of Michigan offers section membership for employed paralegals who meet one of the following:
Bachelor's degree in any field and graduate from an ABA-approved paralegal program
Bachelor's degree in any field plus two years of in-house paralegal training
Associate's degree in the paralegal studies field plus two years of in-house paralegal training
Associate's degree in any field, graduate of an ABA-approved paralegal program, plus two years of in-house paralegal training
Four years of in-house paralegal training
NALS of Michigan – This state-level NALS affiliate organization has several local chapter members throughout the state that all have these membership levels:
Individual – Open to those engaged in work of a legal nature
Associate – Open to those engaged in work of a legal nature such as educators, judges, and attorneys
Students – Open to students taking at least nine semester credits from a legal-related program offered by an accredited school
Retired – Open to those who have been a NALS-affiliated member for at least five years prior to retirement
Life – Open to qualified individual members
International – Open to those engaged in work of a legal nature who reside outside the US
The NALS local chapters throughout the state are:
NALS of Detroit
NALS Grand Traverse Area Legal Professionals
NALS of Greater Kalamazoo
NALS of Jackson County
NALS of Lansing
NALS of West Michigan
Paralegals in Cass and Berrien Counties may join the Michiana Paralegal Association (MPA), which includes over 50 members from northern Indiana and southwestern Michigan. The MPA offers educational and professional development opportunities, networking, an exchange of information on both local and national topics, advocacy for the profession, and pro bono service to the larger community.
Law Firms
Major cities are often home to many large law firms that employ paralegals. In Detroit these law firms include:
Dickinson Wright
Clark Hill
Miller, Canfield, Paddock and Stone
Dykema Gossett
Butzel Long
Honigman Miller Schwartz and Cohn
Important Contacts for Paralegals
May 2020 Bureau of Labor Statistics salary, growth, and job market trends for paralegals and legal assistants. Figures represent state data, not school specific information. Conditions in your area may vary. Data accessed December 2021.