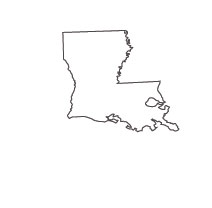 According to the Bureau of Labor Statistics' 2010 survey, Louisiana's legal community supports nearly 4,000 paralegals. In fact, the New Orleans metropolitan area has the ninth highest concentration of paralegal jobs of all metropolitan areas in the nation.
Louisiana's Rule 5.3 defines the profession of the paralegal similarly to other states. Paralegals must work under the supervision of an attorney who accepts responsibility for their professional conduct, including instructing them on ethics and confidentiality. Education and training requirements to become a paralegal are not mandated by the state. However, since 1996, the Louisiana State Paralegal Association has offered a voluntary certification process for paralegals who wish to demonstrate their command of their profession and their dedication to increasing professional standards. Paralegals who pass this voluntary exam may call themselves Louisiana Certified Paralegals or LCPs.
Aspiring paralegals in Louisiana may enter employment directly to receive on-the-job training or may first complete an educational program in paralegal studies. In order to more quickly meet the qualifications of the LCP exam and to gain a competitive edge over other job seekers, many entry-level paralegals are choosing the path of education, earning certificates, associate degrees, bachelor's degree and even master's degrees in paralegal studies.
<!- mfunc feat_school ->
Featured Programs:
Sponsored School(s)
<!- /mfunc feat_school ->
<!- mfunc search_btn -> <!- /mfunc search_btn ->
Certificated, Nationally Certified and Louisiana State Certified
Paralegals that complete educational coursework through a certificate program are called certificated paralegals. Depending on the program, certificates may be offered only to those who have previously earned a baccalaureate degree or they may be available to those with no previous education.
Louisiana Job Statistics
2011 mean income for paralegals in Louisiana: $44,570
Number of paralegals employed in Louisiana: 3,710
August 2012, Supreme Court announces it will move toward a 24-hour e-filing system
Certificate programs generally focus only on paralegal studies and do not require general education coursework. Certificate programs, like degree-conferring programs, may help a paralegal qualify to take one of the national certification exams and the LCP exam. However, the quality and rigor of the certificate program is important to assess, as a the LCP requires either an American Bar Association (ABA) approved program or a paralegal program with at least 60 semester hours and at least 15 semester hours in "substantive legal courses."
Paralegals that have passed one of the national certification exams offered by a professional paralegal association are called certified paralegals. In Louisiana, paralegals who wish to become LCPs and paralegals who have already passed the LCP exam but not yet taken a national exam must take NALA's CLA/CP exam. The requirements for taking NALA's exam and the exams offered by the other national paralegal associations can be found here.
Louisiana Certified Paralegals are paralegals who have passed both NALA's national CLA/CP exam and the Louisiana Certification Exam, which tests a paralegal's comprehension of Louisiana state law. Paralegals who have not yet passed the CLA/CP may sit for the LCP exam. However, they may not call themselves LCPs until they have also passed the CLA/CP, which they must do within three years of passing the LCP.
Paralegals who are not yet LCA/CPs must also meet one of the following qualifications:
Completion of: an ABA-approved paralegal studies program; a post-baccalaureate paralegal studies certificate program; an associate degree program in paralegal studies; a bachelor's degree program in paralegal studies; or any other paralegal program that required at least 15 hours in substantive legal courses and totaled at least 60 semester hours
A bachelor's degree in any subject AND one year of work experience as a paralegal
A high school diploma AND a minimum of seven years of work experience as a paralegal AND a minimum of twenty hours of continuing legal education (CLE) completed within two years prior to taking the LCP exam
Professional Paralegal Associations
The Louisiana Paralegal Association (LPA) was formed in 1986 to educate, advocate for and represent paralegals from throughout the state. Representatives from each of the state's eight districts meet regularly at the state level to assure that matters from throughout the state are attended to.
<!- mfunc search_btn -> <!- /mfunc search_btn ->
A major goal for the LPA is to raise the standard of professionalism and ethical conduct of paralegals, in part by creating standards and guidelines for paralegals. To this end, the LCA offers and administers the LCP exam, and helps paralegals prepare for that exam. The LPA also offers workshops and seminars throughout the state so that paralegals may stay abreast of current legal matters and have access to paralegal-specific CLEs. The LPA also networks with state and national legal organizations such as the Louisiana Bar Association and NALA.
Regionally, there are several smaller professional paralegal organizations offering community, networking opportunities, job banks, CLEs and other benefits to their members. The Baton Rouge Paralegal Association (BRPA), the Lafayette Paralegal Association (LAP-LA) and the New Orleans Paralegal Association (NOPA) offer membership to students and to working paralegals who study, live or work within those geographic areas.
Important Contacts for Paralegals