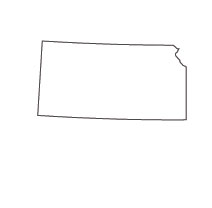 Kansas is home to nearly 2,000 paralegals according to the Bureau of Labor Statistics (BLS) 2010 survey. Metropolitan areas such as Wichita, Topeka and the Kansas City region employ the majority of these paralegals. However, according to the BLS survey, nonmetropolitan Kansas ranks as having the highest employment levels of paralegals of all nonmetropolitan areas in the country.
Kansas does not have state regulations in place that govern the training or education of paralegals. However, guidelines from the Kansas Bar Association recommend that legal assistants/paralegals be considered qualified only if they meet the one of the following requirements:
Completion of a paralegal studies program that is either ABA-approved or accredited and of similar standards to ABA-approved
Passing one of the national certification exams offered by the national professional paralegal associations (see below)
Completion of a baccalaureate degree and one year of in-house paralegal training/li>
Completion of five years of work in a legal setting under the supervision of a lawyer including one year of in-house paralegal training
In Kansas, paralegals may perform substantive legal work provided that it is delegated to them by a supervising lawyer who also assumes responsibility for their professional actions and omissions. The paralegal must maintain confidentiality and the lawyer must maintain direct contact with the client.
<!- mfunc feat_school ->
Featured Programs:
Sponsored School(s)
<!- /mfunc feat_school ->
<!- mfunc search_btn -> <!- /mfunc search_btn ->
Is There Paralegal Certification in Kansas?
The Kansas State Bar Association's guidelines allow for paralegals to enter into employment through on-the-job training and education. Many paralegals find that completion of educational programs sets them apart from other job candidates, which can be helpful in a competitive job market.
Kansas Job Statistics
2011 mean income for paralegals in Kansas: $42,240
Number of paralegals employed in Kansas: 1,800
2011, Kansas statewide district court caseload: 482,344
2011, Supreme Court opinions rendered: 1,448, a 6.8% increase over 2010
Aspiring paralegals have several options for education, including certificate programs and diploma-conferring programs offering associate, bachelor's or master's degrees in paralegal studies.
Aspiring paralegals may earn a certificate of completion from a certificate program in paralegal studies.  Certificate programs offer focused coursework on paralegal studies without requiring general education classes. Some certificate programs require that applicants have previously earned a baccalaureate degree in another subject. Other certificate programs do not require a previous degree. For purposes of meeting the Kansas Bar Association's guidelines or of qualifying to sit for national certifying exams, it is important to locate educational programs that are either approved by the American Bar Association or accredited and comprehensive in their coursework.
Earning a degree in paralegal studies can help distinguish entry-level paralegals from other job candidates and help paralegals meet the requirements for the national certifying exams. Associate degrees and bachelor's degrees in paralegal studies are most commonly earned by aspiring paralegals.
National Certification
Paralegals may demonstrate their proficiency in their field by passing one of the four national certification exams. Upon successful completion of the exam, the paralegal becomes a certified paralegal. Currently the three professional organizations offer four national exams from which to select:
Each exam has different eligibility requirements. A comparison can be found here.
Paralegal Associations
Kansas is home to three professional paralegal associations: the Kansas Paralegal Association, the Kansas Association of Legal Assistants and the Heartland Paralegal Association (HPA).
<!- mfunc search_btn -> <!- /mfunc search_btn ->
An NFPA affiliate with members throughout the state, the Kansas Paralegal Association (KPA) works to increase the visibility of paralegals within the legal field and solidify their role as partners in delivering legal services. The KPA promotes continuing education and professional development, networking and the exchange of ideas, and the forging of strong working relationships with paralegal and bar associations at the local, state and national levels.
The Kansas Association of Legal Assistants (KALA) supports legal assistants and paralegals in increasing their level of professional ability through national certification, specialized training and continuing legal education. KALA is a NALA affiliate. KALA members meet monthly to network, gain insight into local, state and national developments in the legal field and further their education and professional development.
Connecting legal assistants and paralegals across the Missouri-Kansas state line, the Heartland Paralegal Association works to increase the utilization of paralegals within the legal field. The HPA supports voluntary national certification and high ethical expectations as means to this end, and offers its members resources to increase their professional achievement. The HPA brings together students, practicing paralegals, paralegal educators, institutions and vendors to  network and develop community within the legal field.
Law Firms
The majority of Kansas' paralegals work in law firms, especially in the Wichita, Topeka, Overland Park metropolitan areas. Law firms in these cities include:
Foulston Siefkin LLP
Sloan Eisenbarth Glassman McEntire & Jarboe, L.L.C.
Fisher, Patterson, Sayler & Smith
Wallace Saunders
Gilliland & Hayes, PA
Hampton & Royce L.C.
Kutak Rock LLP
Morris, Laing, Evans, Brock & Kennedy, Chartered
Stinson Morrison Hecker LLP
Many paralegals also work across the river in Kansas City, Missouri. Large law firms in Kansas City include:
Shook, Hardy and Bacon
Polsinelli Shughart
Stinson Morrison Hecker
Lathrop and Gage
Husch Blackwell
Important Contacts for Paralegals