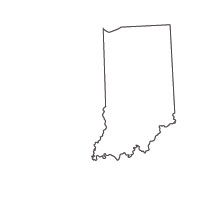 The 3,500 paralegals working in Indiana comprise more than one quarter of the state's legal community. According to a 2010 report by the Bureau of Labor Statistics, these paralegals are employed in a number of areas including private law firms, corporate law, government and industry.
Despite work in support of state regulation by a coalition of Indiana's paralegal associations and the Indiana State Bar, the Indiana Supreme Court failed to adopt Rule 2.2, which would have standardized the educational and work experience requirements for professional paralegals. While Indiana's three paralegal associations and the Indiana State Bar encourage member paralegals to become nationally certified, uphold the organizations' code of ethics and professional responsibilities, and earn continuing legal education credits, none of that is mandated by the state. It is possible that regulation of the paralegal profession may be revisited by the Indiana Supreme Court in the future.
<!- mfunc feat_school ->
Featured Programs:
Sponsored School(s)
<!- /mfunc feat_school ->
Indiana's Rule 5.3 does define the role of the legal "paraprofessional," stating the attorneys must supervise their work and must accept responsibility for the professional conduct of non-lawyer assistants. However, as there are no training or educational guidelines, aspiring paralegals may enter the profession through on-the-job training or education.
Is There Paralegal Certification in Indiana?
Aspiring paralegals have several educational options: certificate programs which do not offer a degree, and associate, bachelor's and master's programs which offer degrees in paralegal studies.
<!- mfunc search_btn -> <!- /mfunc search_btn ->
The length of the program, state or federal accreditation of the program, and American Bar Association (ABA) approval of a program can all be important factors to potential employers and for purposes of national certification.
Indiana Job Statistics
2011 mean income for paralegals in Indiana: $39,450
Number of paralegals employed in Indiana: 3,720
New environmental statute in effect January 1, 2013, combines air, water, and waste boards into 1 single board
2011, Supreme Court issued 2,203 orders/opinions, an increase of 19% over 2010
Certificate programs may offer entry to those with no previous education or they may require a bachelor's degree in any subject as a prerequisite. Certificate programs allow students to focus solely on paralegal studies without taking general education classes. These programs can be helpful to aspiring paralegals who have previously completed a degree but wish to specialize as paralegals, or to those who are trying to enter the job market quickly. A paralegal who earns a certificate of completion from such a program is a certificated paralegal. This is different from a certified paralegal, which is a paralegal who has passed one of the national certifying exams.
National Paralegal Certification
Paralegals who meet educational and experiential requirements can elect to become certified paralegals. Earning national certification is a way for paralegals to demonstrate their competence in their field, distinguishing themselves among their peers and within the job market.  An informational chart comparing national certification exams, eligibility for testing, fees, and recertification is available here.
National certification exams are offered by one of the three national paralegal associations. Currently there are four national exams from which to select:
Professional Paralegal Associations
As members of the Alliance of Indiana Paralegal Associations, Indiana's three paralegal associations work together to provide, support, education and advocacy to paralegals throughout the state. All three associations are affiliated with the NFPA and encourage their membership to receive national certification through the PACE or PCCE exams.
<!- mfunc search_btn -> <!- /mfunc search_btn ->
The Indiana Paralegal Association, Inc. (IPA) works to increase the professionalism of paralegals in Indiana through fostering strong working relationships with other organizations, setting high expectations for ethics and professional attainment, and encouraging ongoing education and professional development. It offers many benefits to its members, from social and networking opportunities to a job bank to liability insurance through its affiliation with the NFPA. The IPA has members from throughout Indiana.
The IPA offers four levels of membership:
Voting Membership – Open to any paralegal working within Indiana at least 70 percent of full time
Associate Membership – Open to anyone previously employed as a paralegal, graduates of paralegal programs, and any paralegals who work less than 70 percent of full time
Student Membership – Open to anyone enrolled in a paralegal studies program
Sustaining Membership – Open to any person or entity interested in supporting the IPA
The Northeast Indiana Paralegal Association (NIPA) supports paralegals and other legal professionals in Northeast Indiana. NIPA offers continuing legal education, a job bank, networking and educational seminars to its members.
NIPA has four levels of membership:
Student – Open to anyone enrolled in a paralegal program
Associate – Open to recent graduates of paralegal programs seeking work, those with job duties that include paralegal responsibilities, and those who have previously been employed as paralegals
Voting – Open to those employed as paralegals as their primary occupation
Sustaining – Open to persons or entities who support the NIPA; successive levels of Sustaining Membership offer increasing advertising options (Basic, Silver, Gold, and Platinum)
The Michiana Paralegal Association (MPA) includes more than 60 members from northern Indiana and southwestern Michigan. The MPA hosts monthly dinner meetings that offer education, networking, support and recognition for their members. The MPA also works to promote the professional and business interests of the paralegal profession.
The MPA offers four levels of membership:
Voting – Open to any paralegal
Associate – Open to anyone who has completed a formal course of paralegal studies, but who is not employed as a paralegal
Student – Open to anyone enrolled in a paralegal studies program
Sustaining – Open to any entity that supports and promotes the MPA
The Indiana State Bar Association (ISBA) offers the voluntary Indiana Registered Paralegal (IRP) status to currently employed Indiana paralegals who perform substantive legal work under the direction of an attorney at least 70 percent of their time, who have been ISBA Affiliate Members in good standing for at least three years, and who meet one of the following:
Bachelor's degree in any field with at least 12 credits in law or paralegal studies from an institutionally-accredited program
Bachelor's degree and a paralegal certificate from an institutionally-accredited paralegal program
Associate's degree/certification in paralegal studies from an institutionally-accredited paralegal program plus two years of paralegal experience
Have the Registered Paralegal (RP) or CORE Registered Paralegal (CRP) credential from the National Federation of Paralegal Associations (NFPA), or have the Certified Legal Assistant (CLA)/Certified Paralegal (CP) credential from the National Association of Legal Assistants (NALA)
Affiliate Membership – You can qualify for Affiliate Membership with the ISBA if you are a paralegal who performs substantive legal work under the direction of an attorney at least 70 percent of their time and have one of the following qualifications:
Bachelor's degree in any field with at least 12 credits in law or paralegal studies from an institutionally-accredited program
Bachelor's degree and a paralegal certificate from an institutionally-accredited paralegal program
Associate's degree/certification in paralegal studies from an institutionally-accredited paralegal program plus two years of paralegal experience
Have the Registered Paralegal (RP) or CORE Registered Paralegal (CRP) credential from the NFPA, or have the Certified Paralegal (CP)/Certified Legal Assistant (CLA) credential from NALA
Law Firms
Indiana's law firms employ many of its paralegals. Some of the largest law firms in are located in the Indianapolis metro area, including:
Barnes & Thornburg
Baker & Daniels
Bingham Greenebaum Doll
Ice Miller
Hall, Render, Killian, Heath & Lyman
Important Contacts for Paralegals