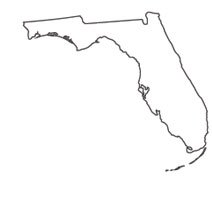 With nearly 20,000 paralegals, Florida ranks third in the nation for the highest employment level of paralegals according to the Bureau of Labor Statistic's 2010 report. The Fort Lauderdale, Tallahassee, Miami and West Palm Beach metropolitan areas each rank as one of the nation's top ten metropolitan areas with the highest concentration of paralegals.
The Florida Legislature has revisited the matter of regulating paralegals several times in recent years. Currently, in order to call oneself a paralegal, a person must meet the Florida Bar Association's definition of a paralegal:
A paralegal is a person with education, training, or work experience who works under the direction and supervision of a member of The Florida Bar and who performs specifically delegated substantive legal work for which a member of The Florida Bar is responsible.
Paralegals may not provide legal advice, must be directly supervised by an attorney, and an attorney must assume legal responsibility for the professional actions of any paralegal employees.
<!- mfunc feat_school ->
Featured Programs:
Sponsored School(s)
<!- /mfunc feat_school -> <!- mfunc search_btn -> <!- /mfunc search_btn ->
While the State Legislature has not yet required certification or registration of paralegals, professional paralegals and the Florida Bar Association have responded to the potential of regulation by offering voluntary certification and registration for paralegals. Currently there are three options: Certified Paralegal (CP), Florida Certified Paralegal (FCP) and Florida Registered Paralegal (FRP).
Paralegal Education, Certification and Registration
Although there are no legal requirements for the education of paralegals in Florida, the Florida Association of Paralegals reports that most law firms will only hire paralegals with a degree. Additionally, many want their new-hires to have passed the Certified Paralegal (CP) exam.
Florida Job Statistics
2011 mean income for paralegals in Florida: $47,611
Number of paralegals employed in Florida: 21,330
November of 2007, Supreme Court of Florida adopted the Florida Registered Paralegal Program
Number of registered paralegals in Florida: 3,844
Paralegals may choose from several different educational pathways: certificate programs, associate's degrees in paralegal studies, and bachelor's degrees in paralegal studies. There are also a few schools offering master's level paralegal degrees. Each type of educational program has different entry requirements and these requirements also vary from school to school. Additionally some schools offer American Bar Association (ABA) approved programs, which may be important to employers and for the national certifying exam requirements. Not all programs are offered by accredited institutions so it is important to research that as well.
Certificate programs offer a certificate of paralegal studies to those who complete their coursework. Certificate programs may target students who have previously completed a bachelor's degree in another field and wish to supplement their degree with a focus in paralegal studies. Other certificate programs do not require a degree as a prerequisite and issue a stand-alone certificate. In Florida, only post-baccalaureate certificate programs are recognized by the FRP program. Some certificate programs in paralegal studies which don't require a degree may meet the requirements for the CP and FCP.
Certified Paralegals (CP)
National certification, including the CP that many paralegals in Florida hold, is offered by the three national paralegal associations. The exams require education, training or a combination of both. Information about the exams, eligibility requirements, and recertification is available here.
Currently there are four national exams from which to select. In Florida the CLA/CP is the exam that most paralegals choose to take because it is a prerequisite of becoming an FCP or FRP.
Florida Certified Paralegals (FCP)
The Paralegal Association of Florida (PAF) offers the Florida Certified Paralegal (FCP) exam. To qualify to sit for this exam, paralegals must already be NALA-certified CPs and must promise to uphold high ethical and professional standards. The FCP designation helps paralegals distinguish themselves as experts in Florida state law.
Florida Registered Paralegals (FRP)
The Florida State Bar, acting under Florida Supreme Court Rule 20, offers voluntary registration of paralegals who meet eligibility criteria. In order to register as an FRP, a paralegal must meet education and experience requirements or must hold national certification from NALA or the NFPA. Paralegals can earn all three (CP, FCP and RFP) credentials if they so desire.
Professional Paralegal Associations
The Paralegal Association of Florida (PAF), an affiliate of NALA, is the only paralegal association that encompasses the entire state. It works to support and advocate for paralegals on the state level, especially by offering voluntary certification opportunities such as the NALA CLA/CP exam and the Florida Certified Paralegal exam. It also provides educational opportunities to aspiring and professional paralegals, including continuing legal education.
<!- mfunc search_btn -> <!- /mfunc search_btn ->
PAF has eleven chapters throughout the Florida: Big Bend, Boca Raton, Brevard, Broward, First Coast, Hillsborough, Palm Beach, Pinellas, Southwest, Suncoast, and Treasure Coast. Each of these regional groups offers monthly meetings, networking, and community service opportunities. Many members also serve as Technical Advisory Committee members at their local colleges.
Regional associations meet throughout Florida. These include: the Central Florida Paralegal Association, Inc.; the Gainesville Association of Paralegals; the Northeast Florida Paralegal Association, Inc; the Northwest Florida Paralegal Association; the South Florida Paralegal Association; the Tampa Bay Paralegal Association, the Gulf Coast Paralegal Association; the Southwest Florida Paralegal Association, Inc. and the Volusia Association of Paralegals.
Law Firms
Law firms employ larger numbers of paralegals than any other type of business. Some of Florida's largest law firms include:
Akerman Senterfitt
Greenberg Traurig
Holland & Knight
Adorno and Yoss
Shutts and Bowen
Broad and Cassel
Cole Scott Kissane
Gunster
Fowler White Boggs
GrayRobinson
Carlton Fields
Foley & Lardner
Wicker Smith O'Hara
Conroy Simberg
Stearns Weaver
Becker & Poliakoff
Morgan & Morgan
Fowler White Burnett
Shumaker Loop
Butler Pappas
Important Contacts for Paralegals