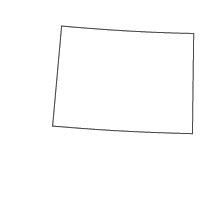 According to a Forbes, Colorado continues to make news with its strong economic growth, consistently coming in among the top states in the nation for its surging GDP. This means good news for the paralegal profession and a great time to consider learning how to become a paralegal in Colorado.
Colorado corporations like Qwest Communications and Macy's in Denver, DISH Network in Englewood, and Children's Hospital in Aurora ensure a steady supply of corporate paralegal jobs, while top law firms like Holland & Hart, Davis Graham & Stubbs LLP, and Sherman & Howard LLC are always in search of paralegals with a solid work ethic, an unwavering commitment to excellence, and the right credentials.
As in other states, paralegals in Colorado are not directly regulated. They must work under the supervision of a lawyer who is responsible for their professional conduct. However, specific education or training requirements are not mandated by the state. This allows aspiring paralegals to pursue career opportunities by obtaining a degree of their choosing and pursue national certification in order to further distinguish themselves.
<!- mfunc feat_school ->
Featured Programs:
Sponsored School(s)
<!- /mfunc feat_school ->
Paralegal Education
Several different educational pathways exist for aspiring paralegals: associate's degrees in paralegal studies, bachelor's degrees in paralegal studies, and certificate programs. There are also a few schools offering master's level paralegal degrees. Each type of educational program has different entry requirements and these requirements also vary from school to school.
Sponsored Listings
In areas where paralegal jobs are competitive, job candidates may find that an increased level of education can give them an advantage over other applicants. Sometimes employers will state that they wish to hire a "certified paralegal."
Colorado Job Statistics
Number of paralegals employed: 5,520
2020 average annual salary: $62,950
CO Supreme Court caseload FY2021: 1,832
They may in fact want a job candidate with a national certification, but most often they are looking for an employee who has completed an educational program to earn a degree or certificate. It is important to understand the difference between the two and to clarify with a potential employer which of the two types of paralegal they are hoping to hire.
Is There Paralegal Certification in Colorado?
Certificated paralegals have earned a certificate showing that they have completed an educational program in paralegal studies. Sometimes, a person who already holds a degree in another area will specialize in paralegal studies by completing a certificate program. Other certificate programs are stand-alone, and do not require that students have completed previous higher educational coursework. Not all programs are approved by the American Bar Association nor are they all accredited. Therefore it is important to research the certificate programs that will best prepare students for employment in Colorado and give future job-seekers an edge over the competition.
The three national paralegal associations offer national certification to candidates who have completed educational programs, gained knowledge through working as paralegals, or both.
Certified paralegals are those who have passed such an exam and have been issued certification by a national paralegal association.
The purpose of these national certification exams is to recognize professional paralegals that have mastered the national requirement of legal information and are competent in their field. By certifying paralegals, the national organizations work to increase the visibility and professionalism of their peers.
Currently there are four national exams from which to select:
Professional Paralegal Associations
Colorado supports two professional paralegal associations: the Rocky Mountain Paralegal Association and the Pikes Peak Paralegals.
Since 1977, the Rocky Mountain Paralegal Association (RMPA), an affiliate of the NFPA, has worked to promote the paralegal profession, provide continuing education and specialization opportunities, encourage networking and increase collaboration between individuals and organizations.
With members from all of the Rocky Mountain States, including Colorado, Nebraska, South Dakota, Utah and Wyoming, the RMPA is able to sustain committees on many vital issues to paralegals, such as pro bono services, education, freelance paralegals, education and family law. They offer information and study materials for those aspiring to become paralegals or earn national certification.
Rocky Mountain Paralegal Association (RMPA) – A National Federation of Paralegal Associations (NFPA) affiliate with four membership levels:
Voting Member – Must be an employed paralegal
Associate Member – Open to individuals who support the RMPA
Sustaining Member – Open to firms, organizations, and businesses that support the RMPA
Student Member – Open to students enrolled in a paralegal program
As an affiliate of NALA, the Pikes Peak Paralegals (PPP) also works to increase the professional standing of and demand for paralegals, provide training and education to its members, and offer networking and support for paralegals throughout Colorado. In existence since 1977, the PPP offers regular seminars and events for students and practicing paralegals.
Pike's Peak Paralegals offers two levels of membership:
Active Membership – Open to anyone who meets any of the following conditions:

Graduate from an ABA-approved paralegal program
Graduate from an institutionally-approved paralegal program that is at least 60 semester credits
Graduate from a paralegal program and have at least six months of paralegal experience under the supervision of a licensed attorney
Have a bachelor's degree in any field plus at least six months of paralegal experience under the supervision of a licensed attorney
Have three years of legal experience under the supervision of a licensed attorney, including at least six months of in-house training
Have at least two years of in-house training under the supervision of a licensed attorney
Passed NALA's Certified Paralegal (CP)/Certified Legal Assistant (CLA) exam
Student Membership – Open to any student in good standing studying to become a paralegal at any ABA-approved school
Associate Membership – Open to anyone who meets any of the following conditions:

Any member of the bar association who endorses the concept of a paralegal
Any member of the educational field who endorses the concept of a paralegal
Persons directly involved in the supervision of paralegals
Any individual, law firm, corporation, or paralegal education program representative who endorses the paralegal concept
Law Firms
Law firms employ larger numbers of paralegals than any other type of business. It can be useful to research local law firms to determining their hiring requirements and employment opportunities. Large law firms in Colorado include:
Holland & Hart LLP
Holme Roberts & Owen LLP
Sherman & Howard LLC
Davis Graham & Stubbs LLP
Brownstein Hyatt & Farber PC
Berg Hill Greenleaf & Ruscitti LLP
Hogan & Hartson
Cooley Godward LLP
Faegre & Benson LLP
Hall & Evans LLC
Kutak Rock
Important Contacts for Paralegals
May 2020 Bureau of Labor Statistics salary, growth, and job market trends for paralegals and legal assistants. Figures represent state data, not school specific information. Conditions in your area may vary. Data accessed December 2021.