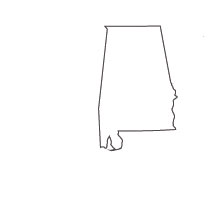 Alabama's paralegals are always ready for anything that's thrown their way. Documents are organized, schedules are checked and checked again, and court docs are always filed on time.
Whether you land a job at one of Birmingham's largest law firms like Maynard Cooper & Gale PC or Burr & Forman LLP, secure a spot in the law department of a major corporation like Encompass Health or Regions Financial, or lend your talents to a well-known nonprofit like Montgomery's American Civil Liberties Union (ACLU), Alabama is where you want to be if a paralegal career is in your sights. Part of learning how to become a paralegal in Alabama includes making sure you have the credentials that today's attorneys demand.
Alabama's Rule 5.3 recognizes lawyer employment of paraprofessionals, including paralegals. It requires that lawyers supervise and instruct their employees and that they accept responsibility for the professional actions of their employees. However, it requires no educational nor certification process for paralegals. Thus, aspiring paralegals may pursue employment by completing educational coursework, such as a certificate program, an associate's degree or a bachelor's degree, or by finding an employer who provides on-the-job training.
<!- mfunc feat_school ->
Featured Programs:
Sponsored School(s)
<!- /mfunc feat_school ->
Is There Paralegal Certification in Alabama?
Employers often interchange the words "certificated" and "certified" when specifying their requirements for a paralegal job candidate. It is important that job candidates understand the distinction and that they clarify with the potential employer which level of training the employer truly desires.
Sponsored Listings
Certificated paralegals have completed an educational program that awarded a certificate in paralegal studies. Certificate programs may offer admission to those with no previous education or they may require that applicants have previously earned a bachelor's degree in another field.
Alabama Job Statistics
Number of paralegals employed: 4,130
2020 average annual salary: $49,150
AL Supreme Court Decisions/Opinions in 2021: 390
There are many certificate-awarding schools, some of which are recognized by the American Bar Association (ABA) and some which are not. These schools may also be accredited or not. As employers may prefer an accredited school with ABA recognition, researching job qualifications in advance of applying to programs is very useful.
Paralegals become certified paralegals upon passing a national exam in their field, administered by one of the national paralegal associations. Paralegals may be employed in their field for several years before they earn certification. Alternately, they may sit for exams soon after graduation from a paralegal school or college program, particularly if they had the opportunity to gain work experience as part of their coursework. Exam requirements vary between the examining organizations.
Currently there are four national exams from which to select:
As the paralegal profession has grown and paralegals have become better utilized in the legal field, standards for entry-level candidates have increased. On-the-job training is still available, but positions are often awarded to job candidates with diplomas or certificates in paralegal studies or internship experience in a law office. Aspiring paralegals may choose to make themselves more competitive in the job market by pursuing a educational certificate program, an associate's degree in paralegal studies or a bachelor's degree in paralegal studies, particularly if these programs also prepare them for national certification.
Professional Paralegal Associations
Professional associations can offer insight into the regional legal community, educational opportunities, networking, mentoring and support. They offer memberships for both students and practicing paralegals.
The Alabama Association of Paralegals, Inc. (AAPi), a NALA affiliate, was established in 1982. Its goals include supporting new paralegals through a mentoring program, networking, and providing educational opportunities for its members, including the continuing legal education (CLE) units required for national certification.
AAPi has members in all parts of the state, with regional meetings occurring monthly or bimonthly. AAPi also offers an annual Winter Seminar as well as a Summer Seminar and Annual Meeting.
Alabama Association of Paralegals (AAPi) – Offers five levels of membership:
Associate Member – Requires meeting one of the following conditions:

Be currently employed as a paralegal
Meet the requirements of an Active Member except that you are not employed as a paralegal
Be a paralegal studies graduate without adequate work experience to become an Active Member
Be directly involved in the supervision of paralegals, such as a law office manager or administrator
Student Member – Requires you to be a paralegal studies student who is not employed full-time as a paralegal
Sustaining Member – Open to any firm, corporation, association, educational institution, or other entity related to paralegals
Lifetime Member – Requires you to be a retired paralegal with at least ten years of experience as an Active Member, having served at least two terms on the Board of Directors
Active Member – Requires you to be employed as a paralegal in Alabama working under the supervision of a licensed practicing attorney, plus meet one of the following requirements:

Have a bachelor's or associate's degree in paralegal studies from an ABA-approved program
Have a bachelor's or associate's degree in paralegal studies from an institutionally accredited program that includes 60 semester credits, with 15 of those in substantive legal courses, plus six months of paralegal work experience
Have a bachelor's degree in any subject plus two years of paralegal experience
Have a paralegal certificate from a program that was at least 24 credits, plus one year of paralegal work experience
Have five years of paralegal work experience under the supervision of a licensed, practicing attorney
Have a Certified Paralegal (CP)/Certified Legal Assistant (CLA) credential from the National Association of Legal Assistants (NALA)
The Alabama Association of Legal Professionals (AALS), an affiliate of NALS, works to increase the professionalism of the paralegal profession by providing education, support, and high standards for its members including national certification. To this end, it offers mock exams and an online study course for the NALS Professional Paralegal (PP) exam.
AALS has chapters throughout the state. Its membership is open to anyone working in the legal community, including judicial assistants, paralegals, word processors, and law librarians.
Alabama ALS – Affiliated with NALS with the following local branches:
BCALP – Baldwin County Association of Legal Professionals
BLSA – Birmingham Legal Secretaries Association
DCLSA – Dallas County Legal Secretaries Association
NALS OF Central Alabama
Mobile Legal Professionals Association
MALS – the Association of Legal Professionals in Montgomery
As NALS affiliates the local chapters encourage NALS certifications and membership.
NALS membership levels are:
Individual – Open to those engaged in work of a legal nature
Associate – Open to those engaged in work of a legal nature such as educators, judges, and attorneys
Students – Open to students taking at least nine semester credits from a legal-related program offered by an accredited school
Retired – Open to those who have been a NALS-affiliated member for at least five years prior to retirement
Life – Open to qualified individual members
International – Open to those engaged in work of a legal nature who reside outside the US
Top Law Firms
Law firms are top-employers of paralegals, and therefore it can be helpful to contact them for employment requirement information and job opportunities. Law firms in Alabama include:
Maynard Cooper & Gale PC
Balch & Bingham LLP
Burr & Forman LLP
Sirote & Permutt PC
Baker Donelson Bearman Caldwell & Berkowitz PC
Lightfoot Franklin & White LLC
Haskell Slaughter Young & Rediker LLC
Starnes Davis Florie LLP
Carr Allison
Rosen Harwood P.C.
Bradley Arant Boult Cummings
Cooper & Associates
Henderson & Associates
James North & Associates
Important Contacts for Paralegals
May 2020 Bureau of Labor Statistics salary, growth, and job market trends for paralegals and legal assistants. Figures represent state data, not school specific information. Conditions in your area may vary. Data accessed December 2021.