Thanks to an increasingly litigious and regulatory-driven society, our nation's legal system has long enjoyed strong and steady growth. But because the coronavirus pandemic brought about both an economic and public health crisis like no other, changes to the legal field have been significant and lasting, leading many to ask what the future of the paralegal field is going to look like.
If you're an aspiring or practicing paralegal, you've likely asked yourself: What do changes in the legal sector mean for paralegal careers, both now and in the future? We've broken down the changes taking place in our nation's legal system (both COVID and non-COVID related) and how they're affecting the growth of the paralegal field and the demand for paralegals well into the future. (Spoiler alert: positive job growth projections reveal that it's a great time to forge ahead with your paralegal career plans with confidence.)
Paralegal Job Outlook: Where are Paralegal Jobs Headed in the Next Decade?
What is the job outlook for paralegals? According to the Bureau of Labor Statistics (BLS), job growth is expected to remain robust between 2020 and 2030, with employment in the profession projected to grow by 12 percent – that's much faster than the average job growth rate for all occupations during this time.
Throughout the next decade, the paralegal field should see about 43,000 openings nationwide each year due to new job growth, retirements, and natural job turnover. In 2020, the BLS reported a total of 345,600 paralegal jobs in the U.S. By 2030, this number is projected to increase to 387,000 jobs.
This type of significant growth in the paralegal profession is caused by a number of factors, according to BLS, including a continued effort by law firms to reduce their costs and increase efficiency.
Because paralegals bill at a much lower rate than attorneys, attorneys are able to keep legal expenses to a minimum. Paralegals have all the skills necessary to take on most of the administrative tasks associated with practicing law, which also frees up an attorney's time to focus on practice-related tasks. Many law firms now turn to paralegals instead of entry-level lawyers to complete much of this work. And in many firms, paralegals are also taking on a more hybrid role, which includes performing the tasks of both paralegals and legal assistants.
Paralegals can and do assume the role of many different professionals in the legal environment, making them a huge asset to lawyers, corporate legal teams, government agencies, non-profits, civil and criminal courts, and much more. Chances are, a successful attorney has one or more trusted paralegals in the wings, completing a wide array of tasks.
There are a few, important tasks that can never be assigned to a paralegal, which include setting legal fees, establishing the attorney-client relationship… basically everything other than representing clients in court, but there are even some exceptions there, where paralegals are allowed to serve as proxies for attorneys in some proceedings.
Just some of the tasks performed by paralegals include:
Organizing and maintaining electronic and paper files
Conducting legal research, investigations, and documentary research to prepare cases and determine cases of action
Drafting correspondence and court documents, such as briefs, wills, real estate closings, appeals, draft pleadings, affidavits, and discovery notices
Filing pleadings with the court clerk
Communicating with clients
Interviewing clients and witnesses
Attending hearings and trials with attorneys
Maintaining the law library
The BLS also reports that while law firms continue to be the largest employer of paralegals, many large corporations and businesses are increasing the size and scope of their in-house legal counsel to cut costs associated with hiring outside law firms. This increase in corporate attorneys naturally translates into increased opportunities for paralegals, whether they're working for consulting firms, insurance companies, healthcare providers, or large nonprofits.

Examining Paralegal Job Growth in the COVID Era: Are Paralegal Jobs in Demand?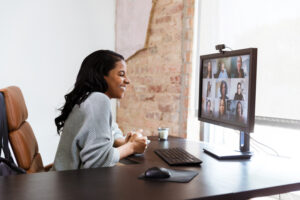 The coronavirus pandemic has changed the legal field in many ways. In the early days of the coronavirus, legal proceedings, like everything else, came to a grinding halt as lockdowns became mandatory. However, soon after, the legal system scrambled to adopt videoconferencing and other tech tools to keep the courts moving despite lockdowns and in-person COVID restrictions. Not a small feat for our notoriously antiquated system of courts.
At the same time, economic activity was slowing, thanks to shuttered factories, disrupted supply chains, and millions of Americans in the food service and hospitality industry out of work. Kids began learning at home, workers upgraded their laptops and started working remotely, and COVID safety restrictions quickly changed how everyone did business.
It was a new world and no one really knew how to navigate it. Attorneys became the popular kid on the block as everyone from small business owners to individual employees, to corporate HR teams turned to them to better understand their role and their rights in the transformed, post-COVID-19 business environment.
Remote workforce challenges, increased concerns about cybersecurity and confidentiality, business contract issues and corporate duties to shareholders, compliance and contractual issues, PPP loans, and changing federal, state, and local regulations are just a few of the reasons why the legal field experienced an uptick in business during the COVID pandemic.
Increased demands on attorneys and the law firms in which they work have, of course, translated into a rising demand for legal services of all kinds and a rosier paralegal job outlook. Paralegals have been key to helping law offices remain productive and keep practices running in a cost-effective manner, and employers haven't failed to notice.
How Paralegal Job Growth is Driving Paralegal Salaries
As the demand for paralegals continues to grow, salaries for these legal professionals are rising right along with it. According to the BLS, as of May 2020, the median paralegal salary was $52,920 – a steady rise from $50,940 in 2018 and $51,740 in 2019.
Early career paralegals with just a couple years of experience earned about $32,900 during this time, while the profession's highest earners (and those with specialized experience in specific areas of law) enjoyed salaries that topped $85,160.
According to the BLS, the top earners in the paralegal profession, according to median salary, were those working in the federal government ($69,490), followed closely by those in the finance and insurance sectors ($66,390).
Paralegals working in local government earned a median salary of $52,660 as of May 2020, which was slightly higher than those working in law firms, where they earned a median salary of $50,600.
LEARN MORE ABOUT BECOMING A PARALEGAL.
May 2020 Bureau of Labor Statistics salary, growth, and job market trends for paralegals and legal assistants. Figures represent national data, not school specific information. Conditions in your area may vary. Data accessed September 2021.

<!- mfunc feat_school ->
Featured Programs:
Sponsored School(s)
<!- /mfunc feat_school ->