Court reporters: They're the mainstay of the courtroom, ensuring that all legal proceedings are memorialized verbatim through complete and accurate transcripts. These experts at capturing the spoken word during depositions, trials, and other legal proceedings are vital to safeguarding the legal process, which is why they're often referred to as "guardians of the record."
Part of a near-recession-proof industry, court reporters enjoy reliable careers that are marked by plentiful job opportunities, strong salaries, and loads of options for those looking to go independent, boost their earning potential, and expand the services they provide. For most court reporters, the sky's the limit when it comes to both earning potential and professional opportunities.
Average Court Reporter Salary By Location and Type of Court System
Do court reporters make good money? Yes! And here's why: Court reporters provide services that safeguard the legal process. That makes them a pretty big deal.
Court reporters are trained, certified, and often state licensed to provide highly accurate and reliable transcripts in the legal setting and are able to certify and testify to the integrity of the records they provide. Continuing education throughout their careers ensures they are well-versed in the latest digital and audio technology and up-to-date of any changes to the legal industry.
Because court reporters capture the spoken word in real-time (called stenographic realtime), anyone participating in the legal proceedings (judges, attorney, court clerks, jurors, even members of the media) have immediate access to the court's transcript. The reliability and accuracy of the services they provide are unmatched; even today's voice recognition software can't match the accuracy of a court reporter's transcript. Thanks to the work of court reporters, both electronic and hard copy transcripts of any legal proceeding are available nearly instantaneously.
The highly specialized services they provide make them valuable – and essential – members of any legal proceeding.
So, what is the average salary of a court reporter? According to the Bureau of Labor Statistics (BLS), court reporters earned an average salary of $66,710, or about $32.07 hourly, as of May 2020. Early career professionals earn about $43,730 ($21.02/hour).
What is the salary for a top-level court reporter? The most seasoned professionals in court reporting earn about $109,240 ($52.52/hour).
Most court reporters work in courts and legislatures. Court reporters working for the judicial system are known as "official" court reporters, while those working in Congress and for state legislatures across the country are known as "legislative" court reporters.
Average salaries tend to differ considerably for court reporters based on the level of government they work in, with those at the state level earning the most:
Federal government: $63,340 ($30.45/hour)
State government: $74,520 ($35.83/hour)
Local government: $70,020 ($33.66/hour)
Court reporter salaries also tend to differ quite a bit based on their location. New York's court reporters earn the highest average salary in the U.S., at $96,640 ($46.46/hour) according to the BLS, followed by those in California, who earned an average salary of $89,120 ($42.85/hour) during this time. Other top-paying states for court reporters according to average salary include:
Washington: $85,000 ($40.87/hour)
Texas: $82,870 ($39.84/hour)
New Jersey: $81,570 ($39.21/hour)
Factors Affecting Court Reporter Salaries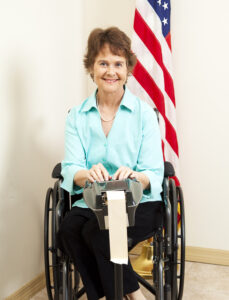 There are quite a few factors that may influence a court reporter's salary:
Job Title Can Influence a Court Reporter's Salary
Court reporters are often referred to as stenographers, since steno-type is the specific type of verbatim transcription services court reporters usually provide. However, there are professional stenographers out there that aren't necessarily court reporters.
Court reporters must complete a specific course of education and almost always hold a state license (which requires passing a skills-based and written exam in most states that require licensure) and/or professional certification through the National Verbatim Reporters Association or the National Court Reporters Association.
This highly specialized skillset makes court reporters a valued subset of the stenographer profession. As a result, you'll find that a court reporter's salary nearly always exceeds a stenographer salary.
Certification Has an Effect on Court Reporter Salaries and Job Prospects
National credentials in court reporting are valuable additions to any court reporter's resume and often result in higher salaries and more professional opportunities. Both the National Court Reporters Association and the National Verbatim Reporters Association offer a number of professional designations that allow court reporters to demonstrate both basic and specialized skills in the profession.
In fact, you're likely to find that most job postings for court reporters come with bonuses or salary increases for those with specific industry certs. Therefore, it always pays to build your portfolio of specialized skills and certs in this profession.
The National Court Reporters Association
Registered Professional Reporter (RPR)
Registered Diplomate Reporter (RDR)
Certified Realtime Reporter (CRR)
Certified Realtime Captioner (CRC)
Registered Merit Reporter (RMR)
Certified Legal Video Specialist (CLVS)
The RPR is the basic certification offered through the National Court Reporters Association. Twenty-two states have adopted this designation in place of state certification or licensing.
The National Verbatim Reporters Association
Certified Verbatim Reporter (CVR)
Certificate of Merit (CM)
Military Verbatim Reporter (MVR)
Realtime Verbatim Reporter (RVR)
Registered Broadcast Captioner – Master (RBC-M)
Registered CART Provider – Master (RCP-M)
The CVR certification is the National Verbatim Reporters Association basic certification. Thirty-seven states have adopted this designation in place of state certification or licensing.
The United States Court Reporters Association offers the Federal Certified Realtime Reporter (FCRR) certification, which is held exclusively by court reporters working in the federal court system.
Is a Court Reporter Paid Hourly or Salary?
Many court reporters are full-time employees and therefore paid an annual salary; however, perhaps just as many are paid hourly because they either work part-time, for a court reporting contracting service company, or on a freelance basis.
Regardless of whether you're salaried or hourly, or full- or part-time, you'll also charge transcription fees (usually about $3 per page) when a written record of the testimony is requested (fees are predetermined by the courts).
Employment Status: Independent Contract, Freelance Court Reporter Salary
Court reporters may be on a federal, state, or local court's payroll, although many enjoy the flexibility and earning potential that come with working on a contract basis, either as a freelancer or through a court reporting contracting service.
The most seasoned pros in court reporting have built the contacts to work as busy freelancers, while other court reporters enjoy the steady supply of jobs offered through a court reporting contracting service.
As an independent contractor, you'll find plenty of business outside of the courtroom, too. Law firms, attorneys, corporations, unions, and other individuals and groups who need official records for arbitrations, board meetings, shareholder meetings, pretrial dispositions, and more rely on independent contractors.
The ability to work as little or as often and according to your schedule, while charging fees that are commensurate with your experience and specialized skills are the major appeal of working as an independent contractor. For many, being able to call the shots can't be beat. Many court reporters can easily make salaries that exceed six figures when working in this capacity, with a freelance court reporter salary typically being very competitive with top earning professionals in the field who bring in more than $109,000 a year.
LEARN ABOUT BECOMING A COURT REPORTER.
May 2020 Bureau of Labor Statistics salary and job market trends for court reporters and simultaneous captionersrepresent national data, not school-specific information. Conditions in your area may vary. Salary statistics representing entry-level/early career = 25th percentile; senior-level/highly experienced = 90th percentile. Data accessed September 2021.
<!- mfunc feat_school ->
Featured Programs:
Sponsored School(s)
<!- /mfunc feat_school ->