You've never been one to be satisfied with doing the minimum, which is why you view earning voluntary professional certification as a necessary step for taking your paralegal career to the next level. NALA – The Paralegal Association has long been associated with excellence in the paralegal profession. You want to achieve excellence in your career, so naturally, earning NALA certification is on the top of your to-do list.
What does NALA do for paralegals? Since 1975, NALA has been offered continuing education and professional development opportunities that allow practicing paralegals to advance in their profession.
What is the mission and purpose of NALA? Today, NALA continues to provide these resources for paralegals, along with professional certification. It's also an excellent resource for information about the profession. And because it is the largest paralegal community in the nation (12,000 members and counting), it has also become the go-to source for networking and employment opportunities. In short, NALA has become a trusted source of information and opportunities for today's paralegals.
How Do You Get NALA Certified? Types of NALA Paralegal Certifications
NALA offers two types of voluntary certification: the Certified Paralegal (CP) designation and the Advanced Certified Paralegal (ACP) designation.
How do you get NALA certified? To earn the CP designation, you'll need to pass a Knowledge Exam and Skills exam to demonstrate your proficiency in the paralegal profession. To earn the ACP designation, you'll need to take a course and then pass an examination to demonstrate your advanced proficiency in a specialty area of law.
Certified Paralegal
NALA's Certified Paralegal (CP) designation has become one of the leading professional designations in the paralegal profession and is acknowledged by the American Bar Association (ABA) as a mark of high professional achievement. This voluntary credential allows paralegals to demonstrate their advanced skills and knowledge and signifies to employers that they can provide "superior services." Today, there are more than 19,000 CPs in the U.S.
The CP designation signifies that you have attained the knowledge and skills to serve as a competent paralegal and deliver legal services to lawyers, law offices, corporations, and governmental agencies.
Before you can apply to take the exams required to earn the CP designation, you must meet one of the following eligibility requirements:
Enrolled in or graduated from a paralegal program that meets one of the following:

Approved by the ABA; or
A post-baccalaureate certificate program in paralegal studies; or
A bachelor's degree in paralegal studies; or
A paralegal program that consists of at least 60 semester hours (90 quarter hours), which includes at least 15 semester hours of substantive legal courses

Earned a bachelor's degree in any field and at least one year of experience as a paralegal OR at least 15 semester hours of substantive paralegal courses
Earned a high school diploma and at least seven years of experience as a paralegal AND at least 20 hours of continuing legal education completed in the last two years
Once you have applied to take the CP exam and qualified through one of the above routes, you will earn approval from NALA to take the two-part CP exam.
You'll first complete an application form with NALA and pay the exam fee. NALA will acknowledge receipt of both your exam and payment.
NALA exam fees are as follows:
NALA member: $250
Non-NALA member: $275
Student NALA member: $125
Student Non-NALA member: $150
The Veteran's Administration pays the exam fees for all qualified veterans. Learn more about this benefit here.
Once you're admitted, you must take and pass a two-part examination that consists of a Knowledge Exam (worth 100 points) and a Skills Exam (worth 30 points).
Knowledge Exam
The Knowledge Exam, which is offered year-round and on-demand at testing sites throughout the U.S., consists of multiple-choice questions covering the following topics:
United States Legal System: 15 points

Sources of Law
Judicial System
Remedies
Administration Law

Civil Litigation: 15 points

Jurisdiction
Federal Rules of Civil Procedure

Contracts: 15 points

Formation, Rights & Duties
Enforcement and Defenses

Corporate/Commercial Law: 10 points

Business Organizations
Rights and Responsibilities
Criminal Law and Procedure Transactions

Criminal Law: 5 points
Estate Planning and Probate: 5 points
Real Estate and Property: 10 points

Property Rights and Ownership
Transactions

Torts: 10 points

Intentional Torts
Negligence

Professional and Ethical Responsibility: 15 points

American Bar Association (ABA) Model Rules of Professional Conduct
Unauthorized Practice of Law
Total points: 100
You must pass the Knowledge Exam before you are eligible to take the Skills Exam.
The Skills Exam is a written assignment that is administrated during four testing windows each year: February, April, July, and October. The skills exam is an essay exam that is score based on the following:
Skills Exam
Writing: 12 points

Grammar, Spelling, and Punctuation
Clarity of Expression

Critical Thinking: 18 points

Reading Comprehension
Analysis of Information
Decision Making
Total points: 30
You'll have 3 hours to take the Knowledge Exam and 2 hours to take the Skills Exam.
NALA offers a great selection of courses, webinars, and practice exams to help you prepare to take the CP exam.
Once you receive word from NALA that your application has been accepted, they'll send you a Testing Ticket via email, which includes instructions on logging into the NALA portal and scheduling your exams.
You'll schedule a testing time to take your exams through a PSI Testing Center near you. You will also need to pay the PSI testing fee which, as of November 2021, was $55 for the Knowledge Exam and $40 for the Skills Exam.
There are more than 250 PSI testing centers located throughout the U.S. After receiving your Testing Ticket from NALA, you'll need to wait until PSI notifies you that they are ready to accept appointments before you can schedule your exam. Once you make your exam appointment and pay the exam fee through PSI, you'll receive an email confirmation with directions to the testing center and the testing center rules.
Note: Electronic devices, such as smart watches, pagers, cameras, and cell phones are not permitted into the testing center. You must present a valid form of acceptable identification to enter the testing center. Be prepared to arrive at the testing center at least 30 minutes before the scheduled exam time.
You may also take the exam through a non-PSI testing center.
You'll have one year (365 days) to take and pass for the Knowledge Exam once you receive authorization to test from NALA. You will have up to three attempts to pass the exam during this period (each exam attempt costs $60). You must submit a retake application and pay a $60 fee to NALA to receive a new Testing Ticket and schedule another exam.
You must wait at least 90 days between each attempt. If you aren't able to pass the Knowledge Exam during this time, your application is voided and you'll need to reapply with NALA.
Similarly, you'll have 365 days upon receiving authorization from NALA to take the Skills Exam, and you must submit a retake application and fee to NALA to receive a new Testing Ricket and schedule another exam. If you are unable to pass the Skills Exam within this time period, your application is voided, and you'll need to reapply with NALA and retake both the Knowledge Exam and the Skills Exam.
PSI will inform you if fail and will provide you with feedback regarding your score so you can prepare for re-testing.
Your CP designation is valid for a period of 5 years. You must complete at least 50 hours of continuing legal education (CLE) during the five-year recertification period to maintain the CP designation. At least five of the 50 CLE hours must be in legal ethics. Ten of the remaining hours may be in non-substantive areas like office management, computer applications, office technology, etc., and two hours may address mental health or the prevention of substance abuse.
CLE hours may be earned through:
Seminars, workshops, conferences
Courses offered through a regionally accredited college or university (provided the grade earned is at least a C – 2.0)
The completion of an ACP course (learn more about ACP courses below)
Advanced Certified Paralegal (ACP)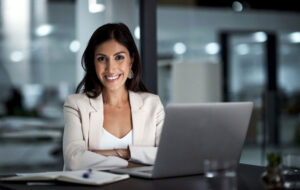 The Advanced Certified Paralegal (ACP) designation is your opportunity to take your paralegal career to the next level by displaying your advanced knowledge and skills in a specific area of law. The ACP designation allows different types of paralegals to earn specialty certification.
To earn the ACP, you'll complete a NALA web-based course. These courses, which are about 20 hours in duration, are available 24/7, so you can complete it on your own time and schedule. You can take an ACP course if you aren't a CP, but to earn the ACP credential, you must be a current CP.
ACP courses/designations are offered in the following areas:
Business Organizations – Incorporated Entities
California Advanced Specialization in Discovery
Contract Management
Criminal Litigation
Discovery
eDiscovery
Family Law – Adoption and Assisted Reproduction
Family Law – Child Custody, Support and Visitation
Family Law – Dissolution Case Management
Family Law – Division of Property and Spousal Support
Land Use
Real Estate Principles
Trial Practice
The above courses feature interactive exercises and culminate in an examination. ACP courses are $250 for NALA members and $300 for non-members.
After purchasing an ACP course, you'll receive an enrollment email. You'll have one year to access the course and take the associated exam.
NALA Certification Benefits
There are many reasons to become a certified paralegal. NALA paralegal certification holds a host of benefits for paralegals. NALA certification on your resume allows you to set yourself apart from your colleagues and demonstrates that you have taken another step to display your skills, knowledge, and leadership abilities in the profession.
For many in the legal field, NALA paralegal certification leads to better job opportunities, a higher salary, and opportunities to advance in the field.
<!- mfunc feat_school ->
Featured Programs:
Sponsored School(s)
<!- /mfunc feat_school ->