The phrase "fake it till you make it" holds particular weight in the fast-paced, unyielding law environment. Here's why…
Your role as a paralegal is an important one, and the attorneys you work for expect you to be on your game at all times. Even if you're having a full-blown anxiety attack inside, your ability to remain calm, cool, and collected is a must in this profession. If you don't know the answer, find it; if you're lost, figure it out. Your position will be a relatively independent one, which is both a blessing and a curse. You'll be expected to know what needs to be done with little guidance and zero hand-holding. This means that having the answers isn't just convenient, it's crucial.
Even the most experienced paralegals have a nice library of how-to guides and references books in their personal library because no matter how long you've been in the profession, the law has a way of reminding you that you'll never come close to knowing everything you need to know.
Consider a variety of references books and paralegal guides as your professional insurance policy. You may not think you need them, but when the time comes for you to make a professional call, you'll be glad you have them. Whether you're fresh out of school and settling in to your first paralegal job or you've been in the profession for years, you'll never regret having a comprehensive library of paralegal books at your fingertips.
8 Books Paralegals Should Read: The Paralegal Guidebooks and Reference Books that Will Help You Build a Successful Career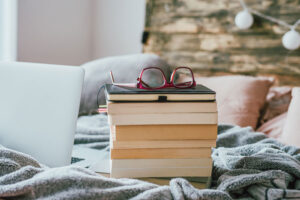 We've carefully curated the top books we think every paralegal should read, read again, and then hold on to. The following paralegal guide books and reference books should be on the top of any paralegal's recommended reading list and a constant on their bookcase.
The Redbook: A Manual on Legal Style ~ Bryan A. Garner
Written by Bryan A. Garner, a lawyer, law professor, grammarian, and lexicographer whose reputation in the legal world is so impressive that his paralegal books have even been cited by the U.S. Supreme Court, The Redbook: A Manual on Legal Style will be your steady sidekick the moment you land yourself a paralegal job.
Grammar, punctuation, style, rules/guidelines/best practices – they're all covered in this essential reference book that'll give you confidence in your editorial choices every time you're called on to produce a high-quality legal document. This isn't a technical writing book – it's a how-to on legal writing which, as you are already likely aware, is a whole different animal. If you have questions on anything and everything related to legal document design and structure, this should be one of your essential paralegal guide books. It's no wonder it's also a mainstay on many a lawyer's desk.
Black's Law Dictionary
Black's Law Dictionary is another staple all paralegals should have within arm's reach at all times. Focused solely on the language of the law, Black's is, without a doubt, the most comprehensive law dictionary ever published, which is why it's been utilized by law professionals for more than 130 years.
Now in its 11th edition, Black's includes more than 55,000 law-related words and phrases, including 3,500 new terms and more than 900 Latin maxims – not just listed, but translated and indexed. Black's is backed by the expertise of none other than Editor-in-Chief Bryan A. Garner, recognized as the world's leading lexicographer and grammarian.
If you have Westlaw, you likely have access to the digital version of Black's, but many paralegals will tell you having access to a desk copy is really valuable, too, for those last-minute checks to bankruptcy case laws and documents when you don't want be bothered logging into your Westlaw account.
Paralegal Today: The Essentials ~ Roger LeRoy Miller
You may have already come across Paralegal Today: The Essentials as part of your paralegal program, and for good reason. It's relevant, concise, and well-written and includes in-depth information on nearly any topic related to the profession, making it not just a book for paralegal students but a solid reference book for the working paralegal. You'll love this book as much for its scholarly info as you will for its practical applications and real-world examples. If you've got an ethical conundrum or potential professional problem brewing, chances are this book will have the answer spelled out in clear, uncomplicated language. Contemporary topics like technology in the courtroom, email policies, and issues related to ethics and professional responsibility are also part of this comprehensive read, making it a shoo-in for top spot on your bookcase.
Lessons From the Top Paralegal Experts: The 15 Most Successful Paralegals and What You can Learn From Them ~ Carole A. Bruno
Imagine if you were lucky enough to get a dozen or so super successful paralegals in one room so you could pick their brains on what makes a successful paralegal. Lessons From the Top Paralegal Experts is just like that, wrapped up in a tidy little bow for your perusal. Whether you're fresh out of paralegal school and starting a new job or you fancy yourself a seasoned pro, you'll find plenty of valuable info in this read. And we're not talking bookish info; we're talking practical, proven tips from the trenches. How to make the most out of your career…how to  elevate your skills…how to improve your productivity—the hands-on techniques in this gold-standard reference book for paralegals provides you with all the info you need to develop your skills and advance your career.
Surviving and Thriving in the Law Office: What Every Paralegal Should Know ~ Richard L. Hughes
No matter how well prepared you think you are for a paralegal job, the complex, unpredictable, and often downright frustrating dynamic between the paralegal and attorney is arguably one of the most challenging aspects of working as a paralegal. While Surviving and Thriving in the Law Office won't guarantee an idyllic paralegal-attorney relationship, it does shed plenty of light on the legal environment and what you'll want to know to perform your job well and fit in without causing unwanted waves. You'll love the real-life examples that are designed to guide your choices regarding office politics, managing your time effectively, producing work you'll be proud of, and much more.
Paralegal Career Guide ~ Chere B. Estrin
Paralegal Career Guide landed a spot on the California Alliance of Paralegal Associations' (CAPA) recommended book list, and we agree! This one offers plenty of bang for your buck, with loads of information about trends in the paralegal profession, tips on negotiating your salary, working well with others, making positive career changes, and more. All this practical info is paired with interesting interviews with real-life paralegals. There's nothing antiquated about the info here, either. Just some of the chapters that really speak to the contemporary topics covered in this read include: "In Pursuit of Success: Shifts in Legal Temporary Staffing Trends"; "Cutting-Edge Legal Careers in the Virtual Workplace"; You Call This Networking?"; and "Toxic Bosses."
Legal Research and Writing: A Practical Approach for Paralegals ~ Robert P. O'Neill Jr.
Legal research and writing tend to be one of the trickier parts of working as a paralegal and is likely not the most thrilling aspect of your job. But it is important and it is something that you'll need to approach with precision. You'll therefore want to make sure you have good paralegal guide books at your disposal when the time comes to tackle those research and writing tasks.
Legal Research and Writing: A Practical Approach for Paralegals is one of those paralegal books you'll grab every time you hit a roadblock. We love the clear language that walks you through all aspects of legal research using a step-by-step approach. No guessing here; helpful visual aids and fact-based exercises are easy to understand, and the Westlaw and Lexis instruction offered is both practical and thorough. The book's comprehensive case studies eliminate confusion and provide you with all the tools to get the job done – and done right.
Paralegal Career For Dummies ~ Scott A. Hatch
Long enjoying a spot as one of the best-selling paralegal books in the legal education market, Paralegal Career for Dummies should be part of any paralegal's library, especially if you're fairly new to the field.
Clear, concise, perfectly organized, and easily digestible, if you're looking for a book to make the obscure crystal clear, this is the book for you. Best of all, it really does cover everything you think you'll need to know – and plenty you never knew you'd need to know, with topics running the gamut from paralegal skills you better have, job hunting skills you'll want to have, and a comprehensive look at everything from preparing documents to performing legal research to understanding legal concepts in areas from corporate law to employment law.
Paralegal Career for Dummies is one of the best hands-on guides to the paralegal profession on the market and has served as a daily guide for countless paralegals. Best of all, it comes with a companion website that you'll turn to for fantastic online resources and easily accessible forms and templates you'll use time and again.
Learn how a paralegal certificate can advance your career.
<!- mfunc feat_school ->
Featured Programs:
Sponsored School(s)
<!- /mfunc feat_school ->