The COVID pandemic has made many of us rethink what our careers should look like. Working from home is no longer a pipe dream; instead, it's a practical and convenient way to earn not just a living, but a good living.
Legal transcriptionists play an important role in most law firms, yet most never step foot inside a law office.
Whether they work directly for a law firm or transcriptionist company or as an independent contractor, most of today's legal transcriptionists perform their work virtually, usually from the comfort of their homes, where they create verbatim text documents of legal recordings.
It's an outstanding professional opportunity for anybody with outstanding typing skills, knowledge of the U.S. legal system, some familiarity with legalese, and a keen eye for detail. If you're a whiz at the keyboard, you're already halfway there.
What Is Legal Transcription?
Legal transcription is a written record of a recorded legal proceeding. Sounds fairly simple, right? It is for the person who has killer typing, computer, and proofreading skills. There's no room for error — the text must be reproduced verbatim. While you're likely aware of court reporters – those pros that transcribe live court proceedings into a written record – your work as a legal transcriptionist doesn't include any live (simultaneous) transcription.
Instead, legal transcriptionists are sent an audio file, which they then transcribe into a written document. No sitting in an uncomfortable chair or suffering through endless courtroom procedures here—you'll likely find today's legal transcriptionists working in their bathrobes from a comfortable chair at home.
In short, there are few legal jobs that can provide the level of flexibility and convenience that legal transcription does.
What Does a Legal Transcriptionist Do?
A day in the life of a legal transcriptionist first involves accepting a transcription job. If you work for a law firm or transcriptionist company, you'll likely be expected to complete a specific number of jobs either daily or weekly.
As an independent contractor/freelancer, you'll call the shots regarding which work you decide to accept. However, you'll need to come with a little more hustle and develop a nice network of law firms who'll call on you for their legal transcription needs.
So then, what do legal transcribers do? Once you accept a job, the client will send you an audio file that you'll be required to transcribe verbatim. These audio files can be anything legally-related and may include legal memos, pleadings, motions, correspondence, depositions, and more.
While court reporters use stenography equipment to transcribe the spoken word, you'll simply use your computer and a standard keyboard to get the job done. The pace of the job is slower as a transcriptionist than a court reporter, so the use of stenography equipment to take shorthand is unnecessary. Plus, you'll have the luxury of pausing and rewinding the recording to get your dictation just right; a court reporter doesn't have the option of pausing courtroom proceedings most of the time.
Once you've transcribed the document, you'll carefully review it, checking for grammatical, punctuation, spelling, and typographical errors. The transcribed document you return to the client should be clean and free of any errors.
What Does a Legal Transcriptionist Need to Get the Job Done?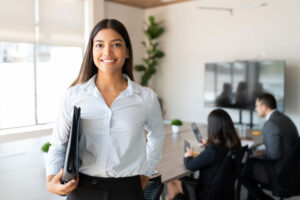 To experience the most success in the field, you'll want to make sure your typing skills are extremely strong. Most successful transcriptionists can type in excess of 75 words per minute with very few errors.
You may need to produce difficult transcriptions that may have poor audio, poor acoustics, or more than one person speaking at the same time, so patience is key in this field.
You'll need a good, reliable computer that has adequate storage and speed to deal with large files. You'll also want to make sure your internet connection and Wi-Fi is strong and reliable (it'll come in handy when sending and receiving files).
Other tools you'll need to get the job done:
A USB foot pedal to play, pause and rewind the recording while keeping your hands free
High-quality headphones with a noise-canceling feature to eliminate background noise
Transcription software like Express Scribe
Comfortable, high-back desk chair and ergonomic desk and keyboard
How to Become a Legal Transcriptionist
The field of legal transcribing doesn't come with any hard and fast rules regarding qualifications. But if you want to increase your odds of breaking into the field, it doesn't hurt to get some type of education or training under your belt.
If you're wondering – Are legal transcriptionists in demand? The answer is YES! – the Bureau of Labor Statistics expects to see a 9 percent increase in jobs for simultaneous captioners in the ten-year run-up to 2029, which is much faster than the average job growth rate.
Step 1. Do I Need a Degree to Become a Legal Transcriptionist?
You likely won't need a formal degree on your resume to land a job as a legal transcriptionist. However, you'll need to have some kind of legal transcription experience and a good understanding of the law, which can be satisfied through the completion of a certificate program in legal transcription.
You'll find a nice selection of certificate programs in legal transcription offered through community colleges, vocational schools, and technical schools, with most taking as little a few months to complete. These programs provide a nice overview of the law and legal terminology while getting you up to speed on everything from proofreading to formatting. Most of these programs are offered online, although many have interactive learning sessions and live discussions with instructors and peers to provide a well-rounded course of study.
If you already have a firm grasp of the transcription process, it may benefit you to instead take a legal course of two. Basic law or law terminology courses aimed at paralegals are always beneficial for legal transcriptionists. Explore paralegal degree programs.
Step 2. Consider Professional Certification
In addition to a solid resume that shows experience in the field, you can further enhance your credibility in the profession by earning national certification as a Certified Electronic Transcriber (CET) through the American Association of Electronic Reporters and Transcribers.
To obtain the CET certification, you'll need to pass a two-part exam that includes a multiple-choice knowledge examination and a practical examination.
Step 3. Enhance Your Skillset as a Paralegal or Legal Assistant Through Legal Transcription
If you're a current paralegal or legal assistant, you can increase your value in the profession by becoming a legal transcriptionist. All types of paralegals and legal assistants can benefit from adding this skill to their resume.
Because paralegals in nearly every sector must come to the table with strong administrative skills, becoming adept in legal transcription is a natural extension of their already strong skillset and is a great way to advance a paralegal career. It's also a solid side hustle.
Legal Transcriptionist Salary
While the Bureau of Labor Statistics (BLS) does not provide specific salary information for legal transcriptionists, May 2020 statistics shows information for court reporters and simultaneous captioners that gives a sense of what you can expect.
About how much money does a legal transcriptionist make? The average salary is about $66,710. Early career professionals earn closer to the 25th percentile, which was $43,730, while experienced pros earned about $109,240, which reflects the top ten percent.
Your skill level in this field will dramatically affect your earning potential as a legal transcriptionist, particularly when working in a freelance capacity or for a transcriptionist company, as you'll be paid by the job. Your salary will naturally increase as you become more adept at producing flawless transcriptions in a short period of time, and your professional opportunities will grow as your reputation as a quality transcriptionist grows.
<!- mfunc feat_school ->
Featured Programs:
Sponsored School(s)
<!- /mfunc feat_school ->