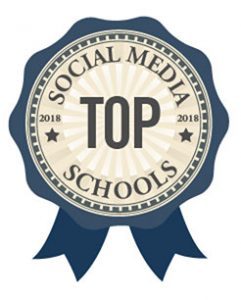 In legal studies departments at major universities, state schools and community colleges all over the world, social media managers are hard at work doing what most of us do when we're hardly working – countless hours of liking, tweeting, and sharing. It's obvious why schools are investing time and resources to maintain a strong presence on the very same platforms we all use everyday: There's just no better way to keep students, faculty and alum connected and feeling like they're part of something.
Add to that the fact that social media doubles as a marketing channel and a way for schools to establish brand reputation and it becomes clear why some schools are spending more time on Facebook and Instagram than your 12 year old niece.
We were pretty impressed with the level of activity we saw at some of our favorite schools, and thought we'd explore the phenomenon ourselves. So we decided to do a little comparative analysis of the social media accounts for the nearly 500 accredited schools offering paralegal programs in the U.S.
And, hey, we're in it for the shares too, so we tried to create something with enough novelty and utility that it might just catch fire when we set it loose in the wilds of the social media landscape.
To make it novel enough to share, we've scored and ranked the social media activity from the legal studies departments of each school. To make it useful enough to stick around for a while, the list doubles as a database for the social media accounts of every single one of these legal studies departments.
You know what to do – if you think this is cool, give it a like. If you think someone else might like it, pass it on.
This list features programs that our editorial staff hand selected to present as top recommendations. We believe the many aspects of a program that come together to create an exceptional student experience can't be reduced to numbers alone, so no formula was used to attempt to score or rank these programs. Instead, they represent our top picks based on a thoughtful review of the things we know mean the most to students. Each one of these programs offers something unique, and all come equally highly recommended. We stand behind the principal of editorial integrity and make these recommendations independently and without compensation.
Most Social Media Savvy Legal Studies Departments