Like every profession, the practice of law is being impacted by the global onslaught of the COVID-19 pandemic. As a paralegal student, you're probably wondering about how it's all going to play out and affect the way you do your job in the coming years, not to mention how you're going to get through your program in the next few months.
As you're sitting here now confined to your home, with your on-campus classes canceled, you probably have more time for ruminating than you ever thought possible when you first made the decision to enroll in paralegal courses.
Like the rest of the world, you probably have some pretty pressing  questions right now about when a vaccine will be developed, and whether or not the virus will come back in the fall. And even after all that, some bigger questions loom about the state of the economy and the job market you'll be stepping into once you graduate.
There are a lot of unknowns right now, and no one has all the answers, but one thing I can tell you is that with months of back-logged cases to get through when this whole thing finally runs its course, the paralegal profession is among the least likely to suffer. In fact, it's already expected that the industry will see a huge spike in demand the minute law offices and court systems click back on and get back to business. This could actually time out perfectly for you.
And since you have the grit and focus it takes to be a paralegal, you're already a lot better prepared to weather the storm and keep your head about you in the meantime.
As any paralegal who has ever worked on preparing a case can tell you, nothing is more valuable than time. Use it wisely and you'll not only end up better prepared for your career, but also more resilient and better equipped to deal with any situation that comes your way. And that's the kind of mettle no amount of formal training can give you.
---
---
Many Paralegals Are Already Working Overtime on Issues Related to the COVID-19 Outbreak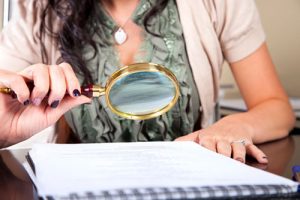 It seems like the legal field almost always ends up dealing with secondary effects of emergencies like this. Which is not to say that there are not urgent legal needs that are emerging during the crisis. There's no better example of this than the lawyers and paralegals in Wisconsin who recently spent long hours pushing a case all the way to the Supreme Court in a dispute over emergency orders concerning primary election voting in that state. Others are burning the midnight oil on a wide array of other immediate legal issues:
Helping corporations interpret paid leave and the unemployment policies as claims roll in on a massive scale
Drafting urgent bail motions for non-violent offenders or immigration violators imprisoned in institutions where the infection is spreading
Determining the legality and scope of wide-ranging public health orders being issued
It's fair to say that paralegals and lawyers are equally engaged in every other sector that's being affected by the coronavirus. And, they're having to do it all remotely.
You may already be getting a taste of legal work during the pandemic, as the ABA and other organizations are calling for student volunteers for a wide array of legal work including research, drafting, and administrative support to deal with the influx.
But you are probably wondering if things will ever go back to normal as signs start to emerge that the pandemic could soon peak and begin winding down… or reconsidering what normal will even look like in the post-pandemic world.
However it all plays out, we can guarantee you one thing: it will result in more legal work than ever.

Unexpected Disruptions Like This Only Add to the Legal Work that Needs to Be Done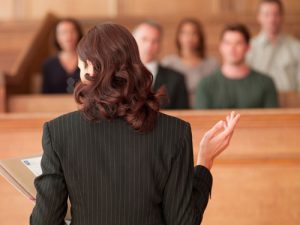 The legal system exists to resolve disputes, and nothing fuels disputes like a major and wide-ranging public emergency. Even now, courts are stepping in to resolve urgent matters about which individuals, corporations, and governments disagree. That trend may not dominate your career as a paralegal, but it will certainly occupy large chunks of the legal industry for years to come.
Determining Matters of Liability
If there is one thing that seems sure about Americans, it's that we like lawsuits! In fact, we like them so much that it's difficult to count how many we file… but some estimates put it at around 40 million per year, the highest number of suits filed per capita in the world.
In the wake of any mass tragedy, you see plenty of civil actions, and the post-pandemic world offers more targets than most. Everyone from airlines to government agencies are likely to be named in major lawsuits over their actions during the crisis. Fox News has already been served with a suit for allegedly intentionally distributing misinformation early on in the outbreak.
Those actions don't go away quickly, either. Almost 20 years after 9/11, there are still lawsuits that are just now kicking into high gear. They may not be resolved for another decade. There will be law firms that build their reputations and bankrolls litigating coronavirus issues on both sides of the courtroom.
Prosecuting Profiteering Cases
Criminal matters often see a bump during crises as well. Bad people don't stop being bad in times of crisis; they double down. That means prosecutors and defenders will have plenty of work that is pandemic-specific coming up in the next few years. States like Alaska are already pursuing people who are engaging in profiteering, while the Department of Justice has moved swiftly to arrest and charge people scheming to defraud healthcare benefit programs with fake COVID-19 claims.
Sorting Out Uncertainty
Quite apart from hashing out issues of liability, there are going to be a raft of other legal issues that spring from the rippling effects of the pandemic and associated shutdowns.
Contracts will have been drafted that did not account for the situation or didn't clearly outline responsibilities in such unforeseen circumstances
Issues arising from complying with extraordinary quarantine and other orders will be questioned
Bankruptcy and other filings will likely skyrocket
Legal issues surrounding equipment confiscations and questionable governmental orders will be heard
Hastily written legislation for relief efforts will likely result in legal confusion that courts will have to clear up
These issues will keep courts and law firms busy hashing out responsibilities among corporations, insurers, and governments for years to come.

How to Roll with the Punches When Your Campus-Based Paralegal Program Suddenly Shifts to Online Only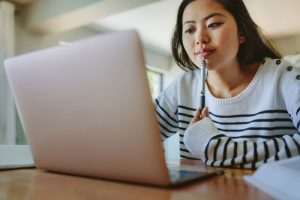 COVID-19 has hit every aspect of society like a ton of bricks. Your traditional, on-campus college paralegal degree probably has not been spared, as schools across the country suddenly shut down and scramble to shift their entire curriculum catalogs online.
It's an unwelcome surprise for your orderly legal mind. After all, if you would have wanted to be in an online degree program, there were already plenty out there for you to choose from.
As tragedies go, adjusting to online-only courses is pretty lightweight in the world today. But we get that it's one more thing to have to worry about, and a pretty pressing concern since you've already laid down your tuition dollars and committed yourself to this career path. The world will not end with COVID-19, and the training you receive now will be the foundation you build your career on. And it's entirely possible that this episode, unwelcome as it may be, could also position you at the cusp of a new reality in legal practice, one in which more comprehensive IT skills and remote capabilities are standard.
It might not have been your first choice, but the legal profession has already made its peace with online training programs. So you don't need to worry about the quality of the education you will get or whether or not it will be accepted by future employers: an online paralegal degree is just as good as a traditional degree today.
Consider this your crash course in how to cope when your on-campus paralegal program suddenly goes online.
It Takes Time to Adapt, But Getting Prepared Smooths Out the Ride
Just like preparing for court, your performance in a class will be shaped by the work you put in ahead of time. But, like preparing for court, you're not doing it alone. Your college is probably working hard to get you all the help you need to make the leap.
You're going to have to trust in the process and follow your school's lead. And you're probably going to have to exercise a little patience; it's possible your instructors didn't expect to be running an online program at the beginning of the school year, either. They may need some time to get the kinks worked out.
Learning Management Systems Recreate the Classroom Experience Online
If your school didn't offer any online classes in any subject at all prior to the COVID-19 outbreak, then it's got some big problems to solve before it can drag itself into the 21st century.
That scenario is virtually unheard of, though, since every school under the sun has been ramping up online programs for many years now. The primary tool every one of them uses to manage it all is referred to as a Learning Management System, or LMS.
An LMS is pretty much just a big bundle of basic functions that you need to make an online classroom work, stuff like:
Virtual blackboards
Video and audio-conferencing services
Assignment and homework file management
Quizzing and testing forums
Course browsers and school catalog displays
Online chat systems and forums
Although they are almost always available through a web interface that will work with any modern browser, like Chrome or Firefox, many LMS platforms also offer dedicated apps now that will work natively with your mobile devices.
Some popular LMS platforms that colleges and universities offer their online programs through include:
All you need to get started with any of these is a login and password. You might even already have it, since many schools just use the same credentials that you use to access your school e-mail. Keep them secure, and keep them close. Campus IT departments are going to be slammed for the foreseeable future, and password resets will be low on their list of priorities.
How Online Classes Work
There are two basic formats you might encounter in online classes:
Synchronous – This will be the most familiar format, conducted in real-time, with the professor delivering a lecture via video or audio stream, and taking questions via conferencing or chat-based interfaces. Many LMS platforms offer a virtual whiteboard and the ability to present other multimedia as well, so it's basically the same as sitting in class except you won't get a dirty look if you get up to go refill your coffee. This is pretty similar to how virtual courtroom appearances run, so take the opportunity to get your video conferencing chops polished. Pro tip: wear pants.
Asynchronous – Although this is a complete switch from conventional class structures, it's the format that most online students eventually come to prefer. Rather than scheduled, real-time lectures, professors post course content—either reading assignments, a video or audio lecture, or other materials—in the LMS, which you can then consume at any time of the day or night. On your own schedule, you can review and digest the material, ask questions through forums, email, or chat, and complete assignments and upload them by some deadline date. You can think of this format as being similar to filing briefs through online court systems; you do the work on your own time, then submit it by the deadline required.
Synchronous classes will be the easiest for you to wrap your head around at first, but once you master the organizational skills and self-discipline required to study on your own time, you may prefer asynchronous courses for their flexibility. Your program may mix and match both of these, reflecting different course content and the priorities of different instructors.
In either case, any work due for the class will usually be submitted as an upload through the LMS. For courses that require group work, or in-class presentations, most LMS platforms support group conferencing, so you are still going to be stuck with that slacker who ended up in your group and thinks talking about himself is the same as contributing to the project. But at least you can mute him now!
It could be that part of your reason for not seeking out online paralegal programs in the first place was a lack of technical affinity or not being comfortable with computers. Those are perfectly valid reasons, but now you're up against the wall and it's time to get past it! If you want to get through the rest of this semester and graduate on time, you'll need to get up to speed… and this goes double if you're going to make it in a modern law firm.
What Kind of Software Do You Need for Online Paralegal Programs?
Although your school's LMS will probably have all of the basic elements you need to attend and participate in class baked right in, there isn't a law practice in the U.S. that doesn't run on Microsoft's Office Suite. You'll probably need a copy in your paralegal program as well. Luckily, Microsoft offers academic deals for students; check with your school's IT department or bookstore about signing up for Office 365 Education.
You may also find other common conferencing and collaboration tools handy for putting together study groups and working on projects with fellow students outside of the LMS:
There is also software available that you might personally find helpful for staying focused with all the extra distractions that are bound to pop up when studying from home, and for processing all the information coming at you over the tubes:
Keep Accessing Other School Services, They're Likely Still Available Online
It's not just your on-campus classes that went away when school shut down; there's an entire array of support services that come with attending any modern college. You may have been relying on campus resources that include:
Writing centers
Career counseling and mentorship services
Libraries
Health clinics
Social services
Schools are moving many of those services online now too, sometimes using the same LMS platforms their online courses are delivered through. Libraries are making digital collections and online journal subscriptions available to remote students, which some argue is even better than going to any physical library. And although it's not the same as someone looking over your shoulder and helping you with a homework assignment, you can still connect and collaborate with tutors and counselors electronically.
It may take a while to get all the kinks worked out, but most colleges have done a terrific job of developing online resource centers for students.

Online Education Parallels the Current Shift to Remote Work in the Legal Field
The shift to remote work is happening at law offices and courts across the country at the same time as you're having to adjust to taking your paralegal courses online. The wheels of justice aren't just going to grind to a halt till the virus passes. Most experts anticipate a second wave of infections in the fall of 2020, and it's an open question if or when an effective vaccination may be developed. The judicial system isn't going to be suspended till then, it's going to adjust and continue to function even if it has to do it at a slower clip.
That adds up to an environment you're going to face at graduation that is radically different from the one that existed when you entered your paralegal program. You are probably going to be expected to have the new technical skills required to do your job remotely:
Videoconferencing into court appearances
Going exclusively to Westlaw, LexisNexis, and other online resources for legal research
Remote client intake processing
It's the same set of skills, unsurprisingly, that you're going to need to handle your online classes. So, even if an online program wasn't your fist choice, it's going to help you develop the capability to succeed in the new era of online legal practice.
Paralegal Work is All About Research and Preparation – This is No Different
Just like preparing for court, your performance in a class will be shaped by the work you put in ahead of time. But, like preparing for court, you're not doing it alone. Your college is probably working hard to get you all the help you need to make the leap.
You're going to have to trust in the process and follow the lead your school sets out for you. And you're probably going to have to exercise a little patience: your administrators and instructors didn't expect to be running an online program at the beginning of the school year, either. They may need some time to get the kinks worked out.
We're going to help them out a little bit by laying out a quick guide for you to understand what they will be doing and describing the nuts and bolts of how online paralegal programs work.

Building Your Skills for a Paralegal Career in the Post-Pandemic World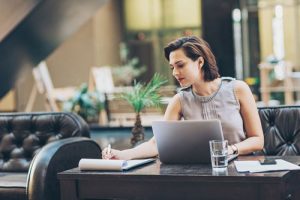 While building up your online acumen is a good way to look forward in preparing for roles with the virtual law firms of the future, it's not the only step you can take to prepare for paralegal work in the wake of the pandemic.
Hone Your Remote Research Skills
Lexis-Nexis and other remote resources have already made significant inroads in legal research and case preparation. You can expect them to become even more important as sitting around in crowded law libraries is frowned upon.
Conducting effective and comprehensive searches is an art all its own, requiring an understanding of search algorithms, categorization, and filing practices. It's all going to be doubly important in a remote-first world, but it's all built on the skills you develop right now.
Brush up on Coronavirus Contract Law
Everyone fights the last war, and for companies that are drafting agreements and putting together contract language for future arrangements, that war will be pandemic response. You can expect to be asked to create new clauses that better define how organizations are required to handle pandemics and other disruptive events for everything from employment contracts and labor agreements to supply chain negotiations.
Like any other legal document you draft, those will have to rely on a firm bedrock of code and case law. Now is a good time to get familiar with all of that.

Adapting to Learning from Home When What You Signed Up for Was the College Experience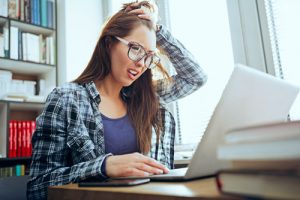 The biggest obstacle for students suddenly finding themselves in online classes aren't really the technical issues, though; it's the mental aspects of going through an entire program without direct contact with peers and instructors.
This isn't a set of problems that is coming on fresh with COVID-19, either. Many students going online for the first time experience issues with:
Developing self-discipline to complete assignments
Computer literacy skills
Time management
Classroom participation
And on top of that, of course, you have the psychological pressures coming at you with life during the pandemic. You probably have personal concerns, worries about family, and financial or career considerations that are being dialed up to 11 right now.
You may be spending a lot of time thinking about your future, too… time alone will do that to you, and uncertainty is on the horizon. Certain aspects of the profession you have chosen are bound to be changing, and you're inevitably going to wonder if you really want to be sitting in small conference rooms with clients or walking around in jails that have proven to be perfect incubation farms during the COVID-19 outbreak.
Those thoughts are all normal, but they're all unanswerable right now. Give yourself room to be a little pensive, but don't let your nerves throw you off course.
Your adjustment may not be a walk in the park, and you shouldn't try to do it alone! With a combination of time-tested techniques and resources that are being made available, you can make the adjustment and still get the education you deserve.
Social distancing rules and more drastic shut-down orders that are now in place in many cities and entire states do away with many of the traditional tools people use to cope with the sort of normal isolation that happens when you're putting a lot of hours into earning a degree online. You can't go study at a Starbucks now, you can't get together in study groups with other students and gripe about the workload, you can't even go to the library to look up critical information, and you can't even go hit the gym to sweat out all the stress of daily life.
But there are alternatives you can master now that will get you through the current crisis and build your skills for a career that is going to be increasingly going remote.
Keep in mind that you can still lean on your classmates. They were a go-to resource when you were sitting next to them in class, and they can be a savior now that you're all isolated in your own homes. Legal work is collaborative, and sharing information and tips is as important to getting through your paralegal program as it will be when building a case in the real-world. Let your classmates know what is working for you as you make the adjustment to remote studies, and ask what is working for them. You'll all get through it together.
You may have picked an on-campus program in the first place because you aren't comfortable with working online, but even before COVID-19, more and more legal work was moving in that direction. You're being forced ahead of the curve by the current crisis, but there are benefits to being ahead of the curve: you can develop skills that will make you more employable and more effective as a paralegal by treating this time as an opportunity to improve instead of an impediment to progress.