Warning
: Invalid argument supplied for foreach() in
/home/bogoqice/paralegaledu.org/wp-content/themes/xyz/shortcode/state_list.php
on line
36
According to the Bureau of Labor Statistics (BLS), the projected job growth for paralegals between 2010-2020 is 18%. The average rate of increase of all professions is 14%, which means that paralegal jobs are being added at a slightly higher rate than other job categories. Paralegals can also expect to earn a higher than average salary. In 2010, the average American wage was $41,674. However, the average paralegal earned $46,680 per year.
*Accredited online paralegal and legal studies programs put an associate's, bachelor's or master's degree well within reach:
Many factors influence paralegal salaries: years of experience, level of education, specialization, geographic location, size of firm/company and type of firm/company. According to Salary.com, a paralegal with an associate degree that is just entering the profession can expect to earn an average salary of $46,907. An experienced paralegal with a bachelor's degree and at least eight years of experience earns an average $71,798. The top 10% of experienced paralegals earned in excess of $91,000. Larger law firms tend to offer higher salaries than small law firms.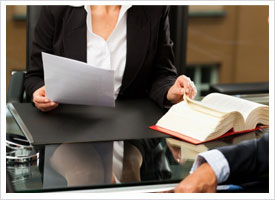 Increased education corresponds to higher salaries. NALA's 2010 biannual salary survey found that paralegal salaries increase in proportion to education, with averages ranging from $50,528 for paralegals with associate degrees to $55,598 for paralegals with master's degrees. As bonuses are often calculated from base salary, such differences in salary can lead to large economic benefits over the course of a paralegal's career.
Paralegal salaries are higher in large cities and in regions with high costs of living. The BLS's May 2011 report found that paralegals in the District of Columbia, California, New Jersey, New York and Illinois earned the highest salaries. Not surprisingly, large concentrations of paralegals live in these areas as well. Top paying non-metropolitan areas include southern Georgia, Hawaii, northern New York and southern Alaska.
The type of business that employs paralegals also affects the salary range. The BLS's survey reports that paralegals working for industries such as petroleum and coal products, software and electronic shopping/mail order earned upwards of $70,000.
According to a 2011 survey conducted by Paralegal Today, corporate paralegals also have higher earning potentials, with an average of $61,764. Paralegals that specialize within corporate law may earn considerably more money. Mergers and acquisitions pays an average paralegal wage of $94,096, real estate specialists earn $89,822 and corporate governance specialists earn $73,562.
Paralegals who work for private law firms may also increase their salaries by specializing. According to the 2010 Paralegal Today survey, the highest earning potentials for law firm paralegals were: municipal law ($71,254), energy law ($68,000), tax law ($64,350), workers' compensation ($63,742) and commercial law ($63,360). Family law ($35,512), criminal law ($37,003) and personal injury ($45,576) are the lowest compensated paralegal specialties.
Paralegal Salaries & Wages by State
Area name
Employment
Annual mean wage
District of Columbia
6950
68120