CNN Money listed paralegal as one of its 20 Best Jobs in America for people looking to make career changes. In part, this is due to Bureau of Labor Statistics data, which consistently shows the paralegal profession as growing faster than other professions. In recent years, law firms have shifted more work to paralegals, thus driving the growth of the profession. A growing national population also translates into an increased need for legal services and more jobs for paralegals. Additionally, changes in industry and economics are fueling growth in legal careers, especially in areas such as intellectual property, elder issues, medical law, environmental law, bankruptcy and international law.
*Accredited online paralegal and legal studies programs put an associate's, bachelor's or master's degree well within reach:
Where Do Paralegals Work?
Approximately 70% of paralegals work in private law firms. The remainder work primarily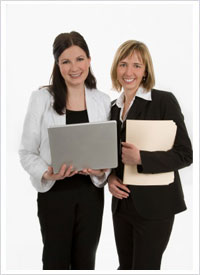 as in-house legal staff for corporations or for government agencies. Corporate paralegals work for large companies such as software developers, finance firms, insurance firms, consulting firms and health care providers/hospitals.  Public sector paralegals work within all levels of government from city agencies to the U.S. Department of Justice. Paralegals may also be self-employed, working as freelance employees. Many paralegals will find themselves working as entry-level paralegals, working their way up the ranks.
Job Transitions
While some paralegals enter directly into the profession through educational programs, others may begin first as legal secretaries, law clerks or other legal support workers, such as court reporters. Through exposure to the legal profession, these workers may desire to gain more in-depth knowledge about the law or to earn the higher salaries that paralegals command. While some may receive on-the-job training to advance their careers, many others will take courses to earn certificates or degrees in paralegal studies.
Similarly, some paralegals discover through their careers that they want greater knowledge of the law or higher salaries. Many of these paralegals return to school to earn their juris doctorate and practice as lawyers. Others choose to obtain higher education in paralegal studies, such as a master's degree or doctorate. These paralegals may work at colleges and universities, teaching paralegal education to aspiring paralegals.
Paralegal Specializations
Through work experience, many paralegals discover an area of law in which they are interested in developing a deeper understanding. Continuing legal education, certificate programs and state or national certification exams are available to paralegals who wish to specialize. Specialists' job duties will be quite different from paralegal generalists, who support a wide variety of legal activities during their careers.
Specialists' work will have a narrow focus. Paralegals that specialize develop a very detailed understanding of their chosen area. Areas of specialization include:
Civil Litigation
Corporate
Contracts
Administrative
Municipal
Commercial
Environmental
Estate Planning
Labor and Employment
Tax and Worker's Compensation
Energy
Family
Intellectual Property
Health
Real Estate